Nursery Bookshelf Ideas
Bookcase Decorating Ideas for a Reading Nook in the Baby's Room

Our nursery bookshelf ideas are for anyone decorating a cozy reading nook in a corner of the baby's room.  One visiting mom-to-be told me that she had completely decorated the nursery from ceiling to floor and wall to wall and STILL had an empty bookcase. 

She had only a few books that were given to her as gifts at her baby shower which left her with a lot of empty space to fill in the bookcase until the collection of books grew.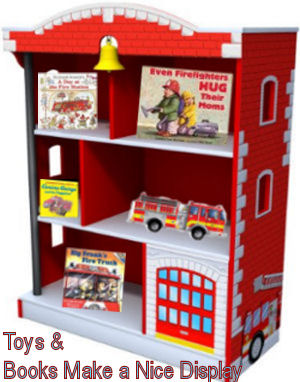 Baby's Fire Truck Nursery Bookshelf Decorating Ideas
Here is an example of a decorated bookcase filled with fireman theme storybooks,
baby memory books
and a bright red, toy fire truck. The colorful books are displayed on plate stands to get the most visual impact out of just a few books.
Bookshelf decorating ideas for a baby girl's
princess theme nursery
include putting a tiara and jewelry box on display as well as her collection of Disney Princess books.
A floating wall shelf always an option instead of a bookcase.
Or, you might have both!
Not all rooms have enough floor space to accommodate a free-standing bookcase which brings us to one of the best
nursery bookshelf ideas
for a small room.
Floating shelves are easily adapted to the height and width of the nursery wall and can hold a variety of decorations as well as books.
Include as many shelves as you need to fill the space.
Some parents prefer wall shelves over bookcases for safety reasons.
And others opt for a more creative way to store and display their child's books.
A color-coordinated, vintage pedal car or basket filled with books on the floor is within easy reach and becomes part of the room's decorations.
We will close with one of the easiest nursery bookshelf ideas of all; a simple stack of books with baby's favorite teddy bear or toy sitting patiently on top.
A well-loved teddy bear and storybooks create a home-y atmosphere with a sense of history.
I hope that you have found some nursery bookshelf decorating ideas that you can use and that you will return to
Unique Baby Gear Ideas
and upload pictures of your little one's bookcase when your work is done.