A Baby Nursery Decorated with Vintage Finds
by Jan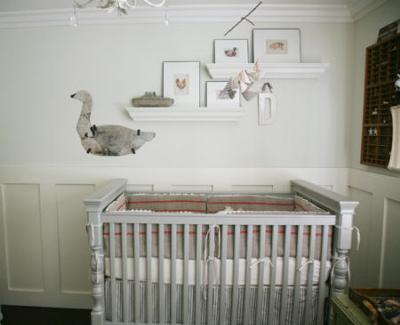 A baby nursery decorated with vintage finds, antique features and a unique homemade mangle cloth and lace crib bedding set.
A baby nursery decorated with vintage finds is best accomplished by purchasing one special piece at a time. The nursery featured in the photos that follow is a shining example that this approach works better than buying everything you (think you will) need in one trip to the store.


Many of the decorative items that you see in the photos on this page were found and packed away by Sara for their "someday baby" while she Josh were struggling with infertility and going through the adoption process.




They gathered many one-of-a-kind pieces over the course of several years.
Go Here to See More
The time spent building this unique collection is really paying off.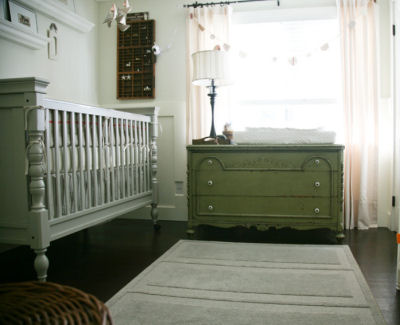 Now that the time to put them on display has finally arrived.. and they couldn't be happier!
The gray color (now discontinued) of the Harper crib from Pottery Barn is perfect with the pale mint green (Benjamin Moore Paint Color "Turtle Dove) walls of the room.
Sara and her in-laws made the crib set themselves out of handmade mangle cloth and vintage lace. They also made the baby's sailboat theme crib mobile out of fabric left over from the baby's bedding set.
The printers cabinet decorating the wall at the end of the crib, was an estate find, as were most of the small chotchkes that fill its cubbyholes.
The nursery armoire may look antique but it's not. Sara gave it an "old" look by replacing its pulls with crystal knobs.
The clothes hamper came from PBK, the rug from Ikea and the basket on top was purchased at Crate and Barrel years ago. The chalkboard, swan push toy and picture were all vintage finds with character and personality to spare.
The glass knob on the nursery's door is a reflection of the hardware that mom chose for the baby's armoire.
This little pillow had been tucked away for years in safe keeping until its message was needed for the door of the nursery. The nubby fabric and heart shaped button are perfect for a
baby nursery decorated with vintage finds
like this one!
The shelves of the nursery are filled with an eclectic mix of timeless treasures including books,
vintage toys
and baskets.
The little toy bear from Sara's mother's childhood is patiently waiting for storytime perched atop a stack of children's books that were first read so very long ago.
Taking a closer look we learn that while Mr. Bear may be quiet, he's not completely without words. The tag he's holding tells us that "Wisdom begins with wonder". Now, that's something to think about as we close our nursery tour.
Thanks to Sara and Josh for sharing their lovely baby nursery ideas with us! To see many, many additional nursery pictures as well as pictures of the rest of their home, please visit Sara's blog,

Sadie Olive
and go prepared to stay awhile; her photography is as addictive and amazing as her decorating and designs. There's simply no way to quickly drop in and leave. You will feel just as much at home there as you do on
Unique Baby Gear Ideas
and will want to see each and every one of her beautiful pictures.