Pink Pedal Car Serves a Purpose in a Baby Nursery
by JB
A pink pedal car might be an unusual baby gift for a newborn who hasn't learned to crawl or walk yet much less maneuver the pedals on a riding toy BUT as you can see from the following picture; the pedal car serves a purpose other than as a toy in this baby girl's nursery.


How brilliant is it of this mom to re-purpose a gift that her daughter's "vintage car-obsessed" grandmother found in an antique store and bought for her (a tiny bit prematurely)?



The car serves as a cute albeit "different" nursery book shelf until the day when the little girl is of the age that actual peddling can begin.
Don't you just love the idea of using toy vehicles as furniture?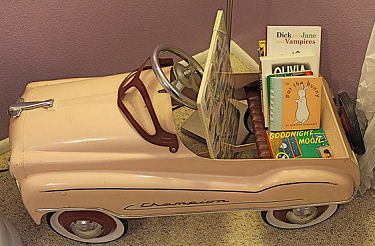 Go here to see more
.
Remember the upholstery of the restaurant's booths in Pulp Fiction that were designed to look like the interior of old cars from the 1950s?
Can't you imagine Olivia Newton John (ala Grease) riding in something like this with John Travolta at the wheel and her ponytail blowing in the wind?
Pictures of Pink Baby Girl Nurseries
Sigh....
And, of course, I am in love with the shade of pink of this sassy little ride! My mom told me she had always dreamed of owning a Chevy Corvette or a pink Cadillac (shades of Elvis!) in this color when I was a kid.
If a blush pink pedal car doesn't rock your world or if it doesn't work with your nursery's color scheme; there are lots of colors to pick from like blazing red, navy blue and a really cool vintage green color.
One of these cars makes a huge impression on the gift table at the baby shower or with a big, red bow tied onto the steering wheel or the hood ornament parked under the tree? The webmaster of
Unique Baby Gear Ideas
is of the mind that this would be such a nice Christmas gift for your little one that will not only become an heirloom toy but an accessory that will help organize your baby's library of books.