Monkey Business Nursery Theme
by Bobby
(Portland, Oregon)
You might wonder how guitars fit in a baby's monkey business nursery theme if you don't know us. Music is a huge part of our life and we want our baby boy's nursery to be fun AND musical. We started making a list of ideas for the design of the room that had previously served as a den as soon as we got the news that we would be getting a special delivery from the stork.



We were not seeing eye-to-eye on the décor. She was leaning toward a jungle theme and I had visions of walls covered in vintage concert posters; we were worlds apart.

It was only after we acknowledged our difficulties and realized that compromises would have to be made that we came up with an idea on how to determine a plan that would carry us forward.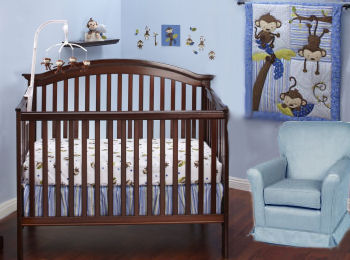 Go here to see lots of
monkey baby bedding sets for boys, girls or in gender neutral colors that will work for either.
We decided to make a list of ideas separately and then get together to see how we could blend them into one cohesive theme. Once we put our thoughts on paper and put our heads together things started to shape up and we began to move ahead and get really serious about decorating the nursery.
Our home has very little natural light making most rooms in our home dark so we thought this would be a great opportunity to paint with light, cheerful colors and bring in a little sunshine.
MONKEY NURSERY DECORATIONS and ACCESSORIES
GIRLS MONKEY BEDDING SETS
MONKEY BABY BEDDING SETS
MONKEY MOBILES
MONKEY BABY SHOWER DECORATIONS IDEAS
MONKEY BABY SHOWER INVITATIONS
MONKEY NURSERY CHANDELIERS, LAMPS and LIGHT FIXTURES
MONKEY COSTUMES
SOCK MONKEY FABRIC
FUNNY MONKEY WALL DECORATIONS and PICTURES
This is a kid's room so I was a bit hesitant to change the paint color of the original trim, base, window casing and doors in our 1932 home. But upon a more detailed inspection it was determined that these items couldn't be rehabbed to their original glory so they went back white.
After that, the wall color became a debate. The wife wanted to opt for a masculine color, but I was able to convince her to go with something more gender neutral to be the background of our monkey business nursery theme. She thanked me for convincing her to use a neutral shade after we'd finished painting the last coat. It is a small room, but we definitely didn't want to paint it again – for the next stork delivery. We used Rodda Paint "Water Magic" which is a minty green-blue.
Our trip to the local Babies R Us to register lead us to the "Pop Monkey" motif. We studied all the decor options that BRU had to offer, but nothing really jumped out at us until we saw this package in one of the side aisles. There was no turning back after this. We knew the monkey business nursery theme was for us. Though we only registered for a portion of the monkey gear, we were gifted everything from stuffed toy monkeys to monkey theme diaper bags decorated with furry monkey emblems.
The crib itself was one of the few non-monkey gifts that we used to create our
baby nursery theme
. It is Simplicity's Ellis Cherry Convertible crib that looks great with the polka dots, brown and sage green fabric of the
monkey baby bedding set
. I think Simplicity is now out of business due to some recalls that did not include this crib.
The baby's changing dresser was also a gift and it matched the crib perfectly. Not sure of the make, but it was a Craigslist find. To avoid having the room weighted down by all cherry furniture we decided to go with a white bookshelf from Ikea. We also picked up a rug and window treatment there. In addition, we inserted a whiteboard laminate into the door recess panel for the parents to write notes and the munchkin to doodle (supervised).
The wall art was also a gift of sorts. My wife's father (grandpa) is a novice artist, so we asked him to whip up a masterpiece for the wall and he did. The tree is complete with a tire swing labeled with our son's name that is a unique design that you can't get in any store.
Above the changing dresser we hung the pearlized belly cast of my wife's 8 month pregnant torso.
Our last decorative undertaking was to incorporate grandpa's guitar into the monkey business nursery theme wall decorations. It was already hanging the room when it was a lounge. We took it down to paint and because of the lath and plaster walls we had a huge hole to contend with. It was decided that we just throw it back up rather than try to patch the walls. The patch would have looked like a patch which was a problem. And we felt that after sharing his nursery with grandpa's guitar for the first years that maybe our son would get some musical inspiration.
One day I came back into the room and saw that my wife had adhered the Pop Monkey wall decals around to the guitar to make it seem as if they were dancing around it. Genius! I'm glad I decided to make babies with that woman.
FROM THE WEBMASTER
I'm a huge fan of guitars AND monkeys so when I saw how you managed to seamlessly blend the two together in your Monkey Business nursery theme design, I was really impressed! What a lucky little boy to have such devoted parents!
Return to
Unique Baby Gear Ideas
to see more cute monkey stuff to use in your baby's room.