Cute Monkey Invitations Ideas for a Baby Shower or Kids Birthday Party
When making or choosing monkey invitations for kids' birthday parties or baby showers; we don not monkey around. Jungle animals are nice but according to kids and more adults that you might imagine; monkeys are the best animals in the whole wide world. To have a party based on these tropical celebrities can provide the ultimate in juvenile entertainment and fun.







The baby shower or kids' birthday party will only last a few hours, but the anticipation can start days in advance. The key to getting the guests excited is to send announcements that clearly indicate the party's theme. Appropriate monkey baby shower invitations and birthday cards will give your invited guests the hint that they should start brainstorming for gift ideas in a monkey theme.
Monkey Party Invitations to Make
Your monkey invitations can be as informal (and cheap) as construction paper that was cut from a sheet of bright, yellow paper in the shape of a banana if your budget has no room for customization of the invitations. Write a cute poem on the back of the banana about monkeys along with the party's details, slap a postage stamp on your homemade party invitation and you're all set.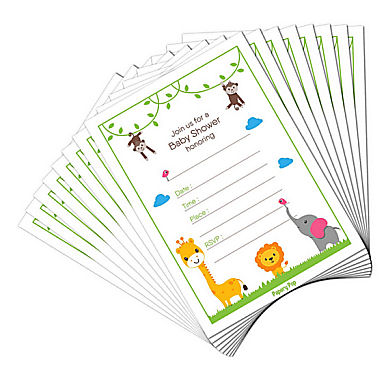 Go here to see more
invitations with a monkey theme for boys, girls or either!
Kids' birthday invitations should be fun. Children could care less if the wording is engraved or printed with a magic marker. So long as your monkey invitations are bright and colorful and can be stuck on the family refrigerator or bulletin board so that the days can be ticked off until the celebration don't feel guilty about mailing homemade or free, printable baby shower invitations rather than store bought cards.
Monkey Invitations for a BABY Shower
For this shower theme the monkey invitations could be more formal in style. If the shower is just a get together for a few close friends there's no need for formality, but if the gathering is a large affair, the invitations should stay in keeping. There are pretty pink monkey invitations for baby girls, blue for baby boys and gender neutral for the mom who isn't sure that can be personalized before they leave the printer according to your instructions.
Perhaps a less expensive and more time efficient route to take would be to purchase a complete kit of monkey baby shower theme party supplies that comes with a set of matching tableware, decorations and invitations. If you need more than the eight or so monkey invitations that are included with your party kit, most have the option of buying additional packages.
Make Your Own Monkey Invitations for a Baby Shower or Birthday Party
If you have a color scheme or your own ideas of what you want your announcements to look like but can't find a suitable card; why not make your own? There are lots of free, printable baby shower templates and clipart to pick from and surely there are probably some monkeys out there somewhere that will work just fine.
Another option for customized monkey baby shower invitations would be to start stamping those monkeys! Buy a set of stationery in pink, blue or any other color you like and create your own designs.
Make plans to visit Unique Baby Gear Ideas again soon to find the latest monkey baby shower invitations, themes baby nursery designs.