Monkey Chandelier Lighting for a Baby Nursery Room
A monkey chandelier is the perfect ceiling decoration for a jungle safari theme bedroom. Monkey themes are always stylish and there are so many kinds to choose from. Chances are that you will recycle your monkey lamps and lights so many times that no matter what the initial price tag might have been; you will have gotten a bargain.




My taste in chandeliers with a monkey theme leans toward one that's been decorated with your basic brown monkey. I like jungle themes with a realistic feel to them. Funky, rainbow colored ceramic monkeys would look out of place with my rainforest decorations and jungle animal artwork.
In fact, I have given an old chandelier a completely new look by attaching some plush, stuffed monkeys to the arms and replacing the old lamp shades with animal print shades. I used leopard print shades to complete the transformation of a plain, brass light fixture into a cheap monkey theme chandelier that looked expensive when it actually cost less than fifty dollars! I even had it re-wired just to be completely safe.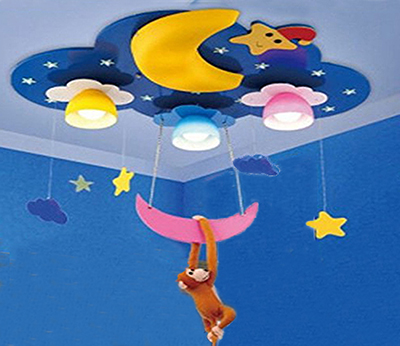 Go here to get
more ideas for monkey themed nursery lighting and lamps.
For most jungle themes you will undoubtedly want to leave your monkeys plain and unadorned, but to bring your light fixture in line with some storybook characters you may want to dress them up a bit. For instance, Curious George is often seen in books playing with bright colored beach balls, kites and binoculars so why not dress up your monkey lamps and chandeliers with some miniature toys to look just like the pictures in your baby's favorite book?
MORE
Cute, Decorated Monkey Baby Nurseries and Decorating Ideas
Fun Monkey Baby Nursery
Funny Monkey Pictures for the Nursery Walls
Monkey Baby Bedding
Monkey Baby Themes
Monkey Baby Mobiles to Make
Girl Monkey Baby Bedding
Here are some more ideas for personalizing your baby's monkey chandelier
For a Sock Monkey chandelier, substitute your brown monkeys for an arrangement of real sock monkeys
For a baby girl's monkey themed room, some fluffy feathers, sparkling jewels and pastel pink or purple ceramic monkeys might be more feminine
Make plans to visit Unique Baby Gear Ideas again soon to see NEW monkey lights that are perfect for a baby's jungle themed nursery.