Best Monkey Baby Bedding, Sock Monkey Nursery Bedding and Decor
When moms have their heart set on the best monkey baby bedding, they don't monkey around! When parents want a theme that focuses on monkeys "average" just doesn't cute it! For that reason, we bring you several styles that feature our banana loving buddies.






The question is what kind of monkey do you want to base your nursery theme on? You love monkeys, we got that. But what
KIND
of monkey baby bedding and what colors do you want to use in your baby's bedroom? Will you want fabrics with backgrounds decorated with pictures of realistic monkeys, cartoon monkeys, Sock Monkeys, circus monkeys or storybook monkeys?


MONKEY BABY BEDDING for a JUNGLE NURSERY THEME
Some decorators give the popularity of jungle and safari baby nursery themes the credit for casting monkeys in all hobbies and walks of life on baby bedding fabrics. I'm not sure that I subscribe to this school of thought because lots of kids monkey bedding have nothing whatsoever to do with a tropical environment.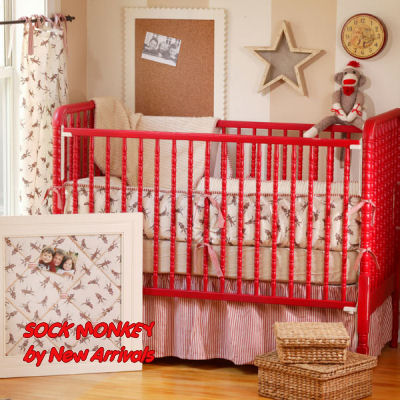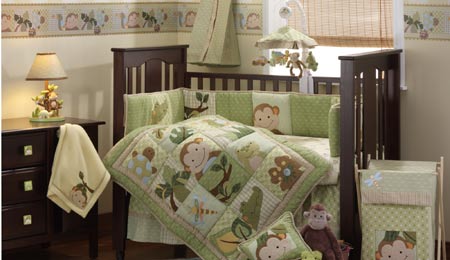 SEE MORE HERE





Cute little monkeys make people smile and that's good enough reason for anybody to want a set of monkey crib bedding. That being said, you can find monkey print bedding with a background of lush green foliage and bright flowers that picture the monkeys in their natural habitat.



MORE Cute, Decorated Monkey Baby Nurseries and Decorating Ideas

Fun Monkey Baby Nursery

Funny Baby Monkey Pictures for the Nursery Walls

Baby Girl Monkey Bedding

Monkey Lamps and Chandeliers

Monkey Mobiles

Monkey Nursery Themes

Baby Monkey Baby Shower

Monkey Baby Shower Invitations


MONKEY NURSERY BEDDING and DECORATIONS
Do you have a great set of monkey baby bedding or a picture of a nursery that you decorated in a monkey theme? Share it!
MONKEY NURSERY DECORATIONS, PICTURES and DECORATING IDEAS
Click below to see we found!

Deluxe Sock Monkey Custom Baby Bedding

The deluxe Sock Monkey custom baby bedding set that you see in the pictures is a favorite with my customers. To make the crib set truly unique and one-of-a-kind, …
SOCK MONKEY BABY BEDDING
There are lots of vintage fabrics in cute monkey prints from back in the 1950s are extremely popular. Remember those cuddly little sock monkeys that our moms had when they were babies? Well, now there are monkey baby bedding sets based on those soft, stuffed toys. I love the vintage feel of the sock monkey bedding fabrics and the colors are fun to work with. The fabrics have shades of cream, brown with rich red highlights. The natural red gingham checks, vintage red ticking stripes, chenille fabrics and the cute sock monkey motifs will inspire so many cool nursery design ideas that will have YOU grinning like a monkey!
This is a unisex monkey baby bedding set, but it might lean slightly toward a baby boy's bedroom theme rather than a baby girl's although my mom says she wouldn't mind having some sock monkey decorations in her room right now! She says that they bring back memories of her childhood.
If you like primary colors along with your primates, a bright red and yellow set of Curious George baby bedding might be for you. What I love about this particular monkey baby bedding set is the color scheme of the bright, sunshine yellow alongside George's brown fur. I also like that you can take monkey baby nursery decorating ideas right off the pages of the Curious George storybooks and that there are lots of choices in Curious George wallpapers and decorative accessories. I've seen some cool Curious George nursery murals painted on the walls to go with the bedding if you want to take your monkey décor to that level.
CUTE PINK MONKEY BABY BEDDING SETS for BABY GIRLS

Monkeys are for everybody, but if you want a set of bedding with a feminine feel there are monkey print bedding selections for girls in pink. Hula monkey bedding has pictures of little girl monkeys swaying in their grass skirts on a sandy beach that will give you some monkeys to work with in a baby girl's Hawaiian hula girl nursery theme.
If you are willing to have your monkey baby bedding custom sewn you can probably find fabrics with monkeys as ballerinas, cowgirls, cowboys, policemen or even fireman. Such is the mysterious appeal of monkeys to babies as well as adults.
For more baby nursery decorating ideas and suggestions on how to choose a nursery theme for your baby, return to Unique Baby Gear Ideas. You can find many more fashionable baby crib bedding sets there.