Fun Baby Monkey Costumes for Halloween
It would be hard to sew baby monkey costumes without a pattern. You might want to consider buying a ready made monkey suit. There are many inexpensive baby Halloween costumes and you can even pick up one of the more expensive Tom Arma or custom made monkey costumes that have only been worn one time for a cheap prince if you shop the online auctions.

Baby gear, crib bedding and kid's clothes with sock monkey and other monkey motifs are all the rage this fall and it's likely that you have some on hand, so there you have the makings for the best, cheap Sock Monkey costume for your child and one that's guaranteed to fit.


More Halloween Costumes
Banana Costumes - Every monkey needs a banana by his or her side, right?
How to Make Halloween Costumes out of Baby Clothes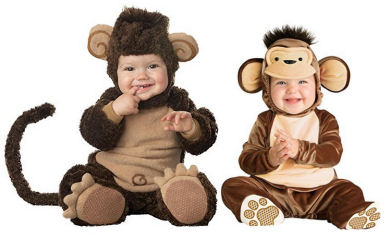 Go here to see more
mischievous baby monkey costume ideas.
Baby Monkey Costume Sewing Patterns
You can make your own costume using Simplicity, McCall and Butterick sewing patterns
cute infant and baby monkey costumes for Halloween
! One of the costume patterns that I have used is the costume pattern number 3594.
This package had multiple patterns for several varieties of baby animals and one of the cutest little monkey costume patterns around. The pattern has the complete outfit. It includes the vest, the head piece with ears and a cute little hat like the kind you see on an organ grinders monkey. You can dress the vest and hat with some fancy gold braid and a flashy tassel for the cap.
There is a stuffed attached tail on the costume that my little ones thought was so funny! The feet of the suit can be sewn so that the elastic fits snugly around the shoes, but the soles of the feet are left open so walking on the ground will not rip the monkey costume or get it dirty.
When choosing your brown furry fabrics for your infant Halloween costume sewing project, check to make sure that the back of the material is not scratchy. It's virtually impossible to enjoy a night of Trick or Treating or acting in a pageant or play if your costume is itchy!
To see more baby sewing and craft projects and tips for decorating a baby nursery please make plans to visit Unique Baby Gear Ideas again soon!