Deluxe Sock Monkey Custom Baby Bedding
by Sheila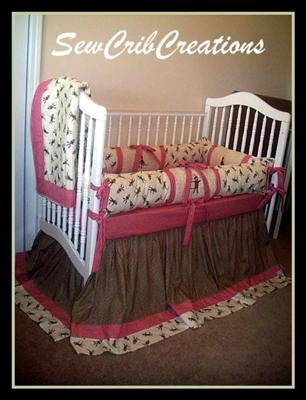 Deluxe Sock Monkey Custom Baby Crib Bedding with Appliqued Crib Quilt, Sock Monkey and red and white gingham check fabric border
The deluxe Sock Monkey custom baby bedding set that you see in the pictures is a favorite with my customers. To make the crib set truly unique and one-of-a-kind, I applied handmade appliques to the quilt as decorations.


SEE MORE HERE
To add more texture and detail to the crib quilt, I added a double layer of batting and piping to the border to give it a crisp, tailored look. If I were making a set of girl's bedding, I probably would have added gathered ruffles rather than the piping to make the set more feminine (but I can do whatever you perfer).
The hemmed length of the crib skirt is 21 inches long. I made it longer to "spill" on the nursery floor and show the detail of the red and white gingham check and
Sock Monkey fabric
border. The checked fabric really makes the red of the Sock Monkeys fabric POP!
When I chose the fabrics for this monkey baby bedding set, I knew it would be a hit since it is even more adorable in person than it is in the photos! And I made everything myself right here at home!
Combining fabrics and seeing how they come together is a hobby that I've enjoyed for over 30 years. I keep at it because you see, I just love to sew and I would love to make YOUR custom baby bedding.
If you would like for me to make a similar set of
Deluxe Sock Monkey custom baby bedding
, I would be happy to work with you. We can get started if you will just email me your contact information using the comments form directly below.
Tell me your monkey
nursery ideas
and I promise that I will make your baby an amazing
custom baby bedding
set that is so much nicer than anything that you will find in your local baby boutique!