Monkey Business Baby Nursery Theme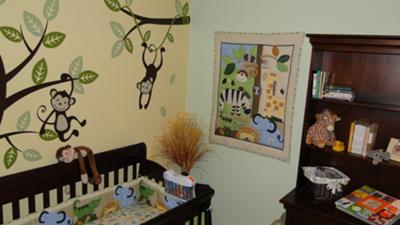 Fun Monkey Business Baby Nursery Theme w Custom Jungle Safari Monkey Wall Decals
The vibe in our monkey business baby nursery theme is fun and energetic and we just love it! My husband and I had considered a safari themed nursery but decided that a jungle safari nursery would be too busy for the space that we would be decorating.




In order to narrow the focus of the theme and create a more creative look for the room, we started playing off all of the different jungle animals to see which ones we wanted to work with.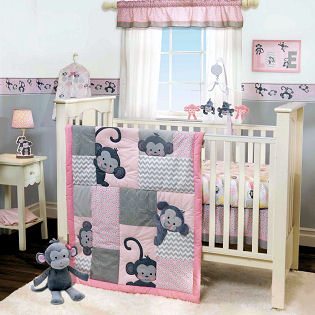 Go here to see more
As we went down the list of animals we looked at all of the possibilities. We considered all of the animals that you associate with the jungle or an African safari.
We looked at decorating with monkeys as well as lions, tigers, elephants and giraffes and liked them all. But in the ened, we came to the conclusion that we loved monkeys the best of all. After looking at some pictures of nurseries decorated with monkeys, we thought a monkey themed nursery would be perfect for our baby.
The first purchase we made for the room was the set of monkey wall decals. When we arranged them on the walls, we were in full decorating mode! From that point forward the rest of our
baby boy's nursery theme
just seemed to just fall into place!
From the webmaster:
If the look you were after was fun and energetic, there's just no way that the other jungle animals that you had on your list for consideration could ever compete with those adorable monkeys!
It's clear that after you had your inspiration piece that the rest of your nursery decorating ideas came easily. The two of you took a very orderly approach to decorating a nursery for your baby and other parents would be wise to follow your lead. Just sitting down and writing down your goals for the finished project and helps to clarify your expectations. I don't know why we all resist making lists when they are so helpful and your room is proof positive that they work! Congratulations on your cute monkey nursery design and thanks for visiting
Unique Baby Gear Ideas
.