English Garden Nursery Theme Ideas for an Enchanted Baby Nursery Theme
Before I started to research English garden nursery theme ideas for a baby girl's nursery that I was decorating, I imagined that the biggest decorative decision that would need to be made was whether roses or some other heirloom flower would take center stage in the decor.



Visitors Shopping for Garden Baby Nursery Theme Ideas Also Enjoyed these Pages:

Rose Crib Bedding

Ladybug Baby Nursery

Butterfly Baby Nursery

Bumble Bee Baby Nursery

Dragonfly Nursery Theme

Very early in the design process the many faces of garden nursery decor began to emerge and I became aware that there were many garden nursery themes that had been there right under my nose all the time; floral prints were just one of the many possibilities. PLUS, the experience left me with a few ideas for baby boy garden nursery themes. Some of the themes that made the list are so common that they are no-brainers but there are a couple of garden nursery themes that are very unique that you might not have thought of yourself, so take a look!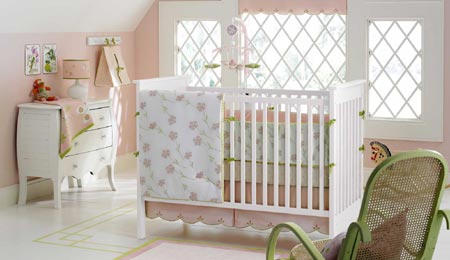 MIGI


GO HERE TO SEE MORE
BUG NURSERY THEME
Ask any gardener what EVERY single garden has no matter if it's a vegetable, rose or cottage garden and they will all agree that every flower garden or what have you, has insects. This is why I put bugs at the very top of our list of garden themed nurseries.
FROG NURSERY THEME
If I were to be asked to suggest one garden theme for boys, I would recommend a frog themed nursery. While also appropriate for a pond theme, with all those insects buzzing about there have to be some toads, right? Whimsical cartoon frogs are cool but the natural beauty of tree frogs is a sight to behold.
FAIRY THEME NURSERY
And what garden worth its compost heap doesn't have one of the little people always hiding just out of sight? Flower fairies, garden gnomes and other whimsical creatures will fill your baby's room with wonder and enchantment.
TEA PARTY THEME
A tea party theme nursery would be the perfect spot to display your china tea set (high on a shelf when the baby starts to walk). Sun hats on the walls with wreaths of flowers circling the crown and a pretty table and chairs tucked into a corner are just a few decorating ideas for English tea party decor.
Fill your color palette with colors right out of a Monet painting blended with lush greenery and floral themed accessories.
HOT AIR BALLOON THEME
Picture a day at the park with a picnic spread on an old blanket. The sky is filled with brightly colored hot air balloons and the air is filled with the sound of children laughing. A hot air balloon mural would make a fine inspiration piece for a garden themed nursery and you can choose any colors you like for the balloons.
ENGLISH GARDEN NURSERY THEME
For this theme, the old-fashioned cottage garden will be your guide for creating atmosphere and choosing a color scheme. Dainty flowers like foxgloves would give the room vintage style or a vintage rose baby bedding made from chintz floral print fabrics might lean toward a shabby chic design. Design the room to represent an informal flower garden surrounding a quaint country cottage choosing your nursery furniture not from a collection or set but by shopping for each piece with a goal of blending not matching.
I'm sure that the surface has just been scratched as far as how to decorate a garden nursery theme is concerned. If you have some ideas for English garden nursery themes and decor that I missed, please return to Unique Baby Gear Ideas to see more Garden nursery decorating advice and to share your own pictures and decorating tips with us.
SHARE IDEAS - PICTURES of GARDEN THEME NURSERY DECOR
Do you have a great set of baby bedding or a picture of a nursery that you decorated? Share it!
NURSERY PICTURES, IDEAS and SUGGESTIONS from our FRIENDS
Click below to see contributions from other visitors to this page...

Genevieve's Garden Nursery

The inspiration for my daughter, Genevieve's, Garden nursery theme came from the beautiful crib set that I found at Pottery Barn Kids, the Daisy Garden …
Baby Girl Vegetable Garden Nursery Ideas Not rated yet
When sister's baby girl, Julia, was born, I offered to help design her nursery. My sister did not want your run of the mill baby design, so we came up …