Baby Bug Nursery Theme Ideas and Designs for a Boy or Girl
I have come to realize there are as many bug nursery theme ideas ready and waiting to be put to work for a baby girl as there are for a baby boy. Yes indeed, there are more sets of girly, pink bug nursery bedding than blue or even gender neutral green for that matter. With everything outdoors-y and natural being all the rage, I set out to locate some cute baby bug decorating ideas for boys and girls.



BUG DECORATING IDEAS for BABY BOYS
I was thinking along the lines of some grasshoppers, ants with a few monarch butterflies and dragonflies in masculine colors thrown in for good measure only to find very slim pickings in bug decorations or baby bedding for boys.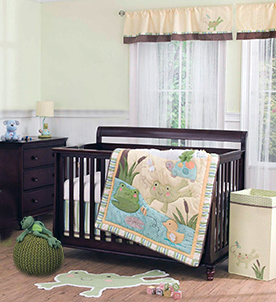 Go here to see
more bug themed nursery décor and crib bedding for your baby boy or girl's nursery.




I found one cute set of bug nursery bedding that was just what I had in mind. The crib set was just right for a
baby boy nursery theme
. It has blades of grass appliqued on the crib skirt and the colors are sunny and bright.
There are cute caterpillars on each blade of grass as well as a few ants, grasshoppers and a blue ladybug or two.
My second choice was a set of brown and green dragonfly baby bedding and a black and yellow bumblebee set that had color schemes that I could work with.
After coming up short in the bug baby bedding department, I found a few sets in turtle and frog themes that were worthy of consideration as they had some insects commonly found in the garden as well as the pond flying in the background. While not exactly what I was in the market for, they would leave a lot of room for accessorizing a bug nursery theme with artwork and other types of bug themed decorations.
If none of the bedding sets tickle your fancy, you might consider picking a set of bedding in a color scheme you like and create your nursery design based on a favorite piece of art or fabric as inspiration. TIP: Take your own bugs pictures and frame them.
BUG NURSERIES FOR BABY GIRLS
It's no surprise that ladybugs are the prima donna of insects in the realm of bug decor for baby girls. For awhile it seemed that everybody I knew wanted a ladybug nursery in either red and black or pink and brown.
Butterflies closely follow ladybugs in popularity as well as dragonflies in wonderfully feminine colors resplendent in pink and purple. Bug nursery themes for girls are extremely popular with cottage style nursery furniture and garden party decor where bug themes for boys' rooms more closely display the real article with less emphasis on caterpillars and gossamer wings and more focus on the creepy crawly side of bugs and worms.
If you find any cute bug nursery decorations or bug baby bedding sets for girls or boys, please drop back by Unique Baby Gear Ideas and share your resources and pictures of your baby's room after it's decorated!