Cute Frog Nursery Theme Decorating Ideas
We chose a frog nursery theme because it is a gender neutral nursery theme that can easily be decorated in pastel or primary paint colors. A natural color scheme looks good with a crisp white wall paint and photographs you can take, print and frame yourself. Or if you prefer something brighter and more fun, green cartoon frog pictures to really POP! Everything from fine art to pictures of Kermit the Frog and friends will be right at home in this room. It's flexible and that's why I love it.



I like the idea of being able to change the décor on a whim without a lot of trouble or excessive expenditures, don't you?

After the project is done, enjoy rocking your little one in the evenings imagining that the two of you are surrounded by the song of the crickets and frogs while you relax after a busy day. But for now; the nursery needs to be decorated and we have lots of ideas for you!

Frog Baby Bedding

Frog Art for a Baby Nursery

Frog Baby Shower Invitations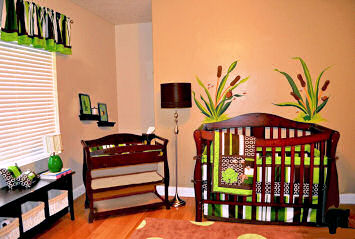 Go here to see more
frog themed nursery bedding and décor for your baby's room.




When shopping for your perfect frog baby bedding and accessories for your frog themed baby nursery, take care not to overlook some of the cute amphibian choices because of deceptive naming practices. It's often difficult to locate baby crib sets for frog nursery themes because the names of the collections often fail to indicate that the baby bedding is made using fabrics with a frog pattern.


SHARE IDEAS - PICTURES of FROG NURSERY DECOR
Do you have a great set of baby bedding or a picture of a nursery that you decorated? Share it!
NURSERY PICTURES, IDEAS and SUGGESTIONS from our FRIENDS
Click below to see contributions from other visitors to this page...

DRAGONFLY and FROG NURSERY

The dragonfly and frog nursery that we decorated for our baby boy, Noah, not only has dragonflies but also snails and baby turtles. Nature is the focus …
Frog Nursery Wall Decorating Ideas
Paint a picture mural of a pond filled with lilypads on your baby's nursery wall where your little frog and friends can swim happily. You can rock your baby in the evenings and imagine the song of the crickets and frogs in your baby's stylish and unique frog nursery theme.





Stenciling Frogs on the Walls of a Baby's Nursery
Stenciling a frog border is an easy DIY nursery painting technique that will take less time and certainly cost less than hanging wallpaper or border. For added interest include some of a frog's companions in nature. Include dragonflies, butterflies, birds or even a lizard for added interest.


Frog Nursery Theme Decorations
When buying decorations and accessories for the room it might be fun to experiement with something other than the usual green frog look right out of the pond. There are lime greens, blues, and many other shades that will perform beautifully in a baby boy's room and what about a cute little Miss Frog with a bonnet to dress up a baby girl's bedroom!
Don't forget to include the famous frog, Jeremy Fisher, of the Beatrix Potter books. Introduding Beatrix Potter, Jeremy Fisher and quacky duck Jemima Puddleduck into the frog nursery theme will be precious! Take a look through your baby's eyes at the storybook wonder viewed from your nursery rocker. How fun to draw attention to the characters in your baby's book that are displayed so cunningly on the nursery dressers, armoires and changing tables.
Parties with an amphibian or froggy theme will tickle the fancy of any child or adult in attendance. If you are lucky enough to have a spring or summer birthday, there are loads of water related games that will adapt well to a frog theme party. Theme parties for kids can be an extension of the nursery's chosen decor.
Some other frog nursery accessories that you may consider:
A Frog Nursery Chandelier or Lamp
A frog growth chart
Framed Frog Wall Art
Frog Area Rug
Frog Baby Bedding
Frog Pillows
Some ferns to create a natural habitat feeling in the nursery Frog theme window treatments.
Use old fishing poles as your drapery rod! Remeber Jeremy Fisher?
There are stores that sell nothing but frog theme accessories. Don't forget to get lots of photos and picture books of frogs with facts and info to share with your baby in your perfect frog nursery theme that you created! Each time you change your baby's nursery decorations, why not begin a new scrapbooking project that reflects your theme? Yes, that's right! You did it yourself!
Here's some funny froggy facts for you:
Some frogs can hop over twenty times their length!
Frogs eyes can have a round iris, horizontal slits, or vertical slits. But guess what? Some are even triangular or heart-shaped!
Now there's a fun frog fact to share with your baby!
Please visit Unique Baby Gear Ideas often to see more unique frog baby rooms and frog nursery Ideas!