Cute Garden Butterfly Nursery Themes for Baby's Room
Butterfly nursery themes are an excellent choice for the decorator looking for something original yet natural. The wings of butterflies are like snowflakes in that each one's designs are completely unique so there will be little chance at the decor becoming monotonous or boring.

What a fabulous way to introduce your baby to the outdoors while bringing bright color and lots of fun to the room. When your baby boy or baby girl gets older, there's no need to discard your collection of butterflies. With a little imagination on your part, these beautiful insects can evolve as decorative accessories suitable for most any room in the family home.
BABY BEDDING SETS
As with most nursery themes, a successful butterfly nursery theme should begin with a baby bedding set in colors and styles that you like. You don't have to have a crib set covered with butterflies for a butterfly nursery theme. A butterfly or ladybug perched or displayed may be all that's necessary to set the style in your naturally themed rooms.
BABY BUTTERFLY DECOR and DECORATING IDEAS FOR THE NURSERY or GIRLS' BEDROOMS

BUTTERFLY BABY NURSERY CRIB BEDDING SETS

BUTTERFLY WALL STICKERS

BUTTERFLY BABY GIFTS IDEAS

BUTTERFLY THEME BABY SHOWER DECORATIONS

BUTTERFLY STENCILS

BUTTERFLY THEME BABY SHOWER - BIRTHDAY PARTY SUPPLIES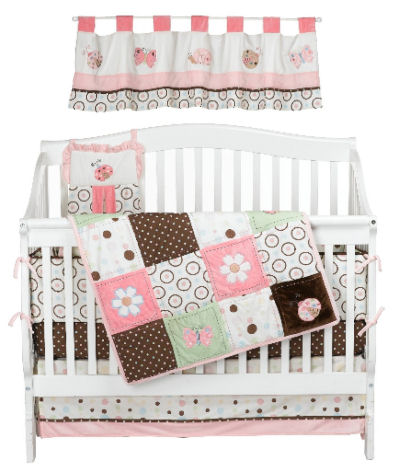 BABY BUTTERFLY
BUTTERFLY GARDEN by FRECKLES
BUTTERFLY KISSES
MARIPOSA by KIDSLINE
BUTTERFLY NURSERY THEMES FOR BABY BOYS, BABY GIRLS
Your butterfly decor will work with any of the following unisex nursery ideas:
Baby Girl Butterfly Nursery Themes
Pretty in Pink
Cowgirl
Princess of the Castle
Kitty Cats
Baby Boy Nursery Themes
Hunting
Baby Bear
Fishing
Puppy Dogs
Are you wondering if butterflies would be masculine enough for a baby boy's room? Think about it, aren't butterflies and other occupants of nature fixtures in all of the themes mentioned above? Wouldn't the honeybees in the Winnie the Pooh Nursery theme be right at home with a butterfly and a ladybug or two? Even a bear theme nursery might include several varieties in his inventory of forest creatures!
NURSERY PAINTING, NURSERY WALL DECORATIONS and COLOR IDEAS
Look to your butterfly's wings for the best nursery paint color. As long as you stay close to colors found in nature with your butterfly theme baby nursery ideas there's really no way that you can go wrong. For instance the most vivid yellow can't help but blend well with a painted blue sky filled with fluffy white clouds. The oranges and reds will never clash with the natural green of a grassy meadow. Your color restrictions would be in matching and coordinating your colors with your nursery artwork, your baby bedding and window treatments.
The painting impaired such as myself can take the easy and cheap way with some nursery wallies or wallpaper cutouts. If you prefer a three dimensional look, paint some picket fencing a pretty color and paint a pastoral scene to surround it.
If you prefer a monochromatic scheme, mix and match some butterfly stencils. If you are an old hand at stenciling, layer as many different colors as you want.
BUTTERFLY NURSERY THEME DECORATIVE ACCESSORIES
Go shopping for artwork featured in different species of butterflies. Contract a professional or an artistic friend to paint a contemporary canvas wallhanging or a one of a kind original growth chart personalized with your baby's birth details and name.
NURSERY FURNITURE
Don't feel you are bound to use white nursery furnishings. Be BOLD! Use the same striking colors and contrasts that you love in your flying friends! Lime greens, bold yellows and warm reds can all be used if a nod is given to the color wheel and the wild colors of the beckoning outdoors. It's just paint! Dab some swatches on a color board and test it for a few days to see if you like it.