Baby Dragonfly Nursery Theme Ideas - Dragonfly Crafts and Sewing Projects for Baby's Room
There are so many dragonfly nursery theme ideas that stand out in the pictures that our visitors share with us that I don't know where to start. We have pictures of a garden themed nursery, a nursery where fairies are the focal point and rooms where ladybugs and dragonflies co-exist in a delightful wall mural that mom and dad painted themselves.



For those of you that sew, there are sewing projects including dragonfly baby bedding sets made from fabrics in colorful patterns that the moms that made them indicate are very easy projects. This is good news for the do it yourself decorator since we are all looking for ways to save money these days.


With a free pattern and your sewing machine a mom-to-be can make the most inexpensive dragonfly baby bedding set or crib quilt in a weekend or less.

Dragonfly Wall Decals

Baby Girl Nursery Ideas

Dragonfly Art for a Nursery

Dragonfly Pictures

Dragonfly Nursery Wall Decals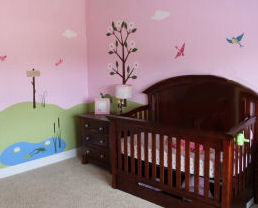 Go here to see
lots of ways to see ways to use stencils and decals to decorate the walls of your baby's dragonfly nursery.


DRAGONFLY WALL ART AND DECORATIONS
There are cute, whimiscal examples of dragonfly art, prints and drawings that are matted and framed especially for children's rooms. Dragonfly posters are a very inexpensive way to decorate a large wall without depleting your budget.


Show Us Your Dragonfly Nursery Decorating Ideas
Our visitors would love to see your dragonfly nursery ideas!
See Lots of Dragonfly Nursery Ideas in the Pictures Below
Click below to see pictures of nurseries shared by other moms and dads-to-be

Zoey's Dragonfly Baby Nursery

Most of the decorating decisions for my baby girl's dragonfly baby nursery theme were based on a cute wallpaper border that I found online while looking …
Dragonfly Nursery Theme Murals
A painted garden wall mural is an easy painting project even for a beginner with no experiences with painting or crafts. Once you have the background of rocks, grass and other basic surfaces where dragonflies, butterflies and ladybugs can stop to rest you can use stickers or stencil patterns to add the insects.
Contrary to popular opinion; nursery murals don't have to be hand-painted to be pretty. Paint the larger plants and trees using a projector or dragonfly stencils available online, then get some wallies, stickers or decals to fill in the finer details that might be beyond your level of artistic ability.
WINDOW TREATMENTS
Light and airy lace curtains with a dragonfly design are the perfect compliment to this natural nursery theme. There are patterns for crocheted valances and panels with dragonflies crocheted right into the pattern. What a lovely, inexpensive handmade gift these would make for a friend.
Dragonfly Nursery Ideas for a Baby Girl
Dragonfly prints in pink, lavender and spring green are a feminine way to decorate with your favorite insects and still have a dainty color scheme. To spice things up and add color; butterflies, ladybugs and flowers will be in keeping with your theme. If your garden bedroom could use a few more decorations, you might add a garden fairy or two.
Dragonfly Nursery Decorating Ideas for a Baby Boy
Where we recommended adding butterflies, fairies and flowers to the dragonfly motifs in a girl's bedroom; for a baby boy's nursery you might want to use your dragonflies to design a pond theme complete with frogs, turtles and fishing poles.
You will also want to find dragonfly pictures using earth tones, shades of blue or colors that blend with the rest of the room.
DECORATIVE ACCESSORIES
A few additional touches that you can add for very little money but that will make a huge impact would be dragonfly shaped drawer pulls and a matching nursery rug.
Please make plans to visit Unique Baby Gear Ideas again soon to see the latest ideas for decorating a dragonfly nursery theme.