Best Ladybug Baby Nursery Theme Decorating Ideas
Keep springtime in your home with a cute, DIY ladybug baby nursery theme. Whether you live in a temperate climate or in the land of ice and snow, little ladybugs will brighten your spirits whenever you enter the room.



Baby Girl Nursery Decor



NEW Baby Girl Bedding Sets



Best Baby Girl Gift Ideas







There are so many nursery ideas and easy instructions for how to use our baby ladybug stuff and nursery decorating ideas to design an affordable and stylish ladybug nursery theme for a baby girl or boy.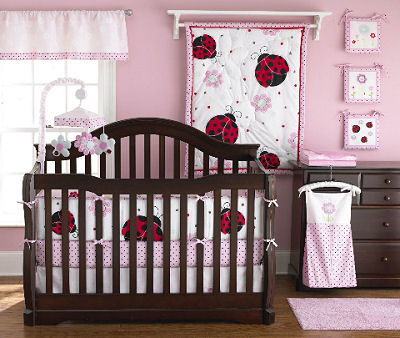 My ladybug baby nursery theme is the one place that I tolerate insects! There's just something cheerful about those little round button shaped bugs that keep me from my usual reaction.
The bold red and black contrast of their coloring is a natural for a stimulating nursery color scheme. A baby nursery theme using ladybug motif baby fabrics in unusual colors like lime greens and bold pinks are cool, too! Bring in a few butterflies, dragonflies and other critters to keep your button shaped bugs company!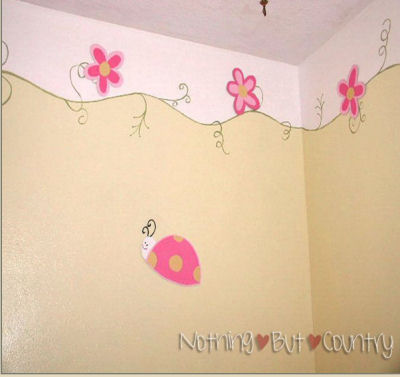 Yellow and Pink Ladybug Baby Nursery Ideas
LADYBUG PARTY SUPPLIES, GIFTS and DECORATIONS
Contemporary accessories in a ladybug motif are easy to find and decorative craft items are easy for even a novice crafter to make!

Ladybugs have a naturally strong color scheme so take it easy on the nursery's foundation colors. A really crisp white nursery wall color will be a good background for your mod ladybug baby nursery theme and decor.

There are several manufacturers with ladybug nursery baby crib bedding.

SHARE IDEAS - PICTURES of YOUR NURSERY
Do you have a great set of baby bedding or a picture of a nursery that you decorated? Share it!
NURSERY DECORATING IDEAS, PICTURES and DECORATING IDEAS
Click below to see the latest vintage theme bedding and nursery decor.
If you find the perfect lady bug bedding set with a strong or busy fabric print, try to leave some room between the crib and your next decorative ladybug item. Too many ladybugs in one area could be a little much.
To customize your nursery furniture, paint a ladybug or two on the baby crib, baby dresser, baby armoire or even the baby rocker. Ladybugs are not hard to paint at all and will only require a few colors!
Don't forget to include a ladybug's natural companions, butterflies and dragonflies! Not only will this give you opportunities to expand your baby's nursery color scheme, but it will give added interest to the room.
Gorgeous painted furniture for your ladybug baby nursery theme is available at many discount baby centers, but it's really easy to personalize your baby's room yourself! And for a lot less money!

If you don't like the idea of painted ladybug furniture, a ladybug accessory here and there will be fine. Ladybug table lamps
Ladybug ceiling fan pulls for the kids room
, Ladybug banks
Ladybug theme clocks
Ladybug teapot sets
Any of the above would be so cute and be cool additions to that new set of ladybug baby girl crib bedding! Work your ladybugs into your ladybug baby nursery theme in little unexpected places!

Do you embroider? Embroider just a few little ladybugs on your baby's bedding. The baby's pillowcase would be a good place to scatter a few.

Work a few lady bugs into your nursery wall décor. Ladybug wall art will be easy to find but don't discard the idea of making your own ladybug wall items for your ladybug baby nursery theme. If you do your shopping on the net, check out the garden themed prints and fabrics as well as ladybug stuff, because they often coordinate very well. What a great way to begin teaching your baby botany!
It's not unheard of to combine several nursery themes. For instance wouldn't it be so cute to combine ladybugs and fairies? A fairy garden nursery theme with some butterflies and ladybugs in the garden would be totally enchanting and versatile!
Design wooden wall letters with some ladybugs making their way across from one wall letter to the other! This will be just one of many great personalized baby gifts that you can make yourself to enhance your ladybug baby nursery theme!

Make some ladybug wall treatments! Ladybug fabric is available to enhance most any ladybug baby nursery theme and I'm sure you can find a print that will work with all your ladybug stuff. You may want to go neutral on your baby's bedding if you use a busy print for your window treatments or a canopy over baby's crib.

I saw a stunning nursery done in black and white toile with ladybugs used as accents! The black, white and red color scheme was fabulous!

Cover one nursery wall in ladybug wallpaper,use a ladybug wallpaper border or you can design your own ladybug border with your choice of colors as one of your main ladybug baby nursery theme decorations. Or maybe scatter some ladybug stickers across a pristine white nursery wall. A little goes a long way, the contrast will be eye-catching.

Here's a list of items for you to consider in creating your ladybug baby nursery theme:
Ladybug Baby Crib Set or Baby Bedding
Ladybug Nursery Furniture
Ladybug Drawer Pulls
Ladybug Wall Decoration for your Ladybug Nursery Theme
Ladybug Wooden Wall Pegs
Ladybug Wallpaper Border
Ladybug Decorative Switchplate
Ladybug Wallies, Stickers or Decals
Ladybug Curtain Tiebacks
Ladybug Doorstop
Ladybug Printed Fabric
Ladybug Rug
Ladybug Foot Stool
Lady Bug Lamp
A ladybug personalized baby quilt
A ladybug shower curtain if your baby's nursery is close to a bath
A ladybug teapot set on top of baby's dresser
Return to find more girl ladybug baby bedding,Baby Nursery Ideas and tips on how to use mod ladybugs as decorations in your baby girl's nursery.