Free Cloth Diaper Sample Giveaway Contests

You may wonder why a company would offer a free cloth diaper sample. My guess would be to give moms a chance to see that this is not your mother's (or grandmother's) cloth diaper.
Today's cloth diapers are much more comfortable for baby and when you have babies with ultra-sensitive skin like mine, there truly is no better choice. And Nifty Nappy is a perfect example of the reasons we can ditch the disposable mindset without sacrificing good fit and convenience. Vilate, of Nifty Nappy, produces a wonderful diaper that you have to hold in your hands and wrap around your little one to appreciate. If you can't wait to win the free cloth diaper sample in our giveaway contest, keep reading because there's a coupon code!
ADJUSTABLE FIT

So many cloth diapers are so thick and cumbersome that they literally ruin the look of any outfit. Who wants their baby to look like they are in desperate need of a diaper change even when they are clean? Not so with this cloth diaper! The cheerful red, white and green Ooga Booga print diaper (a LOVELY choice for the holidays!) that she sent me to try is so very nicely fitted in the bottom and trim in the waist which is a very desirable characteristic for any mom who likes for her baby to look sharp.
SUPER SOFT FABRIC and STURDY SNAPS
But enough about the appearance of the Nifty Nappy diaper; the construction of this product is absolutely wonderful. They are so soft that I challenge you to resist the temptation to rub the ultra-soft cotton knit on your cheek. The fabric of both the outside and the interior of the diaper is pure pleasure to touch. If your baby has had problems with chafing around the leg openings of your current diaper, you will especially want to try these. In my experience this problem worsens in the winter months and if you have not had to deal with this yet, Nifty Nappy might prevent the irritation from ever getting started in the first place.
LOVELY, LOVABLE LONGIES

And I can see why Vilate is having a difficult time keeping the longies in stock. She sent me a pair of these pant style covers that are made from upcycled wool sweaters. She handpicks the sweaters for absorbency and softness and I am can't wait until the weather gets chilly so I can let my little one enjoy them as much as I've enjoyed holding and touching them. The elastic in the waistband is exactly what I expected, comfy and soft as a baby's breath. Vilate is now offering custom wool covers and while she can't show examples of all the materials, you can trust her completely to provide you with a quality product for a baby of any gender.
Nifty Nappy ships their wonderful products all over the world for a very reasonable price and has a return policy that shows her complete confidence and pride in her diapers.
MORE REVIEWS
Here are more Nifty Nappy cloth diaper reviews left by customers: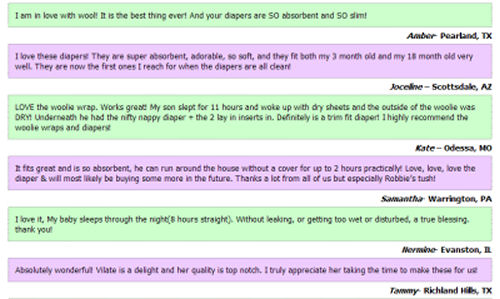 FREE CLOTH DIAPER SAMPLE GIVEAWAY
Vilate has generously offered to sponsor a free Nifty Nappy cloth diaper sample giveaway where one lucky mom can win one Nifty Nappy and a longies wool cover. This wonderful prize has a retail value of approximately $35. Nifty Nappy will ship the product to the winner after the contest closes so that mom can choose the fabric they like.
Use the diaper coupon code UNIQUENAPPY and get 10% off total sale. FREE CLOTH DIAPER SAMPLE GIVEAWAY CONTEST RULES:

HOW TO ENTER: Visit the NIFTY NAPPY website and then write a few sentences telling why you think that cloth is better. You might also tell Vilate which of her fabrics or products you like best. Never underestimate the power of wordy comments!
Please don't neglect the step of leaving your contact information in the space that pops up AFTER you submit your comments requested in the rules of the free cloth diaper sample giveaway. I never share emails and this will keep your address private.
The NIFTY NAPPY Free Cloth Diaper Sample giveaway starts on Sunday November 22th and will end on December 14 at 11:59 PM EST. The winner of the free cloth diaper sample kit will be chosen, notified by email and will have two days to respond before another winner is drawn.
The free diaper offer is open internationally to everyone (over 18 years of age, please). Nifty Nappy will be responsible for shipping the prize to the winner of this giveaway.
EXTRA ENTRIES
You can pick up additional entries that increase your odds of winning the NIFTY NAPPY CLOTH DIAPER GIVEAWAY by completing any or all of the actions below.
1.Buy something while shopping at Nifty Nappy and give me your invoice number for 10 extra entries.
2. Follow Nifty Nappy's blog http://niftynappy.blogspot.com
3. Follow Nifty Nappy's twitter user name myniftynook
4. Become a fan of Nifty Nappy on facebook page http://www.facebook.com/home.php?#/pages/Upalco-UT/Vilates-Nifty-Nook/77239423252?ref=ts
5.Tweet the details of the Nifty Nappy cloth diaper giveaway contest and leave the link for the tweet, please.

6.Blog about the Nifty Nappy cloth diaper giveaway and link to: https://www.unique-baby-gear-ideas.com

7.Stumble the cloth diaper contest (the page, not the site) and then leave a comment with your Stumble name and or URL.

8.Favorite my blog ON Technorati using this addy https://www.unique-baby-gear-ideas.com/baby-gear-blog.html

9.Grab the Unique Baby Gear ideas Logo Button and add it to your blog

Leave a separate comment for everything you have done to get extra entries for a chance to win the diaper and longies.
I would like to thank Vilate at Nifty Nappy for giving me an opportunity to introduce the moms who visit Baby Nursery Themes and Decorating Ideas to their products that are guaranteed to make every baby who wears them more comfy and dry.
NIFTY NAPPY GIVEAWAY
Tell us why you want to try or why you prefer to use cloth diapers rather than disposables for your baby.
What Other Moms Think
Click below to see other entries