Exotic Princess Nursery
by Jan
Who could be better qualified to take pictures of Annabella's chic and exotic princess nursery than her very own parents?


How fortunate we are that JohnPaul and Elizabeth Soto, who are anxiously awaiting the arrival of their baby girl, are such amazing photographers who are not only talented in the area of photography but also in the area of interior design!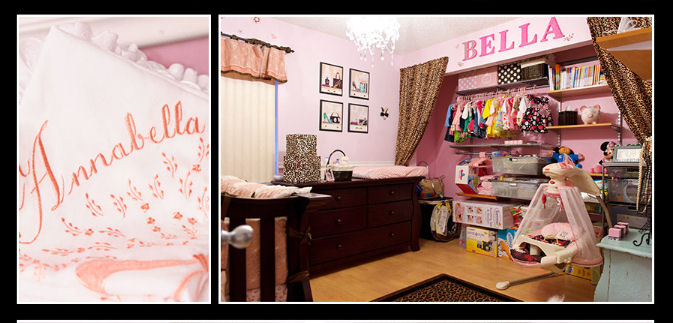 They put their considerable creative skills to good use in capturing many interesting views of their baby girl's nursery. There are so many adorable touches and features included in Princess Annabella's decor and I plan to let the photos do the talking in this post but I would like to point out a few things that caught my eye just so you don't make the mistake of scanning over the pics without paying proper attention.
For instance, did you catch that the curtain panels held to each side of Bella's closet with tie-backs are made using leopard print fabric ( and you wondered why I titled this article EXOTIC Princess Nursery? Well, here you have it!) and that the wild animal print is repeated in the stacking hat boxes that are no doubt used for storage in the baby's changing area.
In this picture, we have a clear view of the pink and brown nursery wall painting technique that was used below the
DIY wainscoting on the nursery wall
as well as a chippy, shabby chic accent table in aqua.
I was enchanted by the tabletop display that brought a distinctive French flavor into the space. The miniature, vintage mannequin draped with strings of pearls and the Eiffel Tower topped with a fetching floral pouf are joined at their base with a whimsical, painted wooden display of letters that spell out a shortened version of the princess in residence's name,
BELLA
.
There are other references to fashion in the framed artwork over Annabella's changing table and the 3D wall hooks over her crib.
THE BOSS OF THE NURSERY
The Soto's family and friends will surely know who is in charge when they come to admire the new baby when they read the announcement on this adorable princess crown shaped decoration.
The sign is just perfect for the theme including the color and the saying is adorable as well.
The crowning glory of our
baby girl nursery pictures
and of the exotic princess nursery's design is the beautiful, crystal chandelier that sparkles like diamonds.
I hope that you enjoyed our tour of this baby girl's delightful nursery and that you will stop by her parents' blog, JohnPaul Soto Photography to see even more photos of her room.