Best Baseball Rugs
When looking for floor covering for your resident die hard baseball fan, put baseball rugs at the very top of your shopping list. Wall to wall carpet, hardwood or tile are always appropriate and can be selected to blend with just about any fabric print or paint color, but you may be able to find some sports theme rugs that you can use in one special area.

Wouldn't a round rug with stitching just like a real baseball knock your bedroom decorating project right out of the park and score a home run for the home team? I think that it's a decorating mistake not to give the floor just as must attention as the rest of the room. The floor is a huge part of any themed room so it should be decorated to tie into the rest of the décor.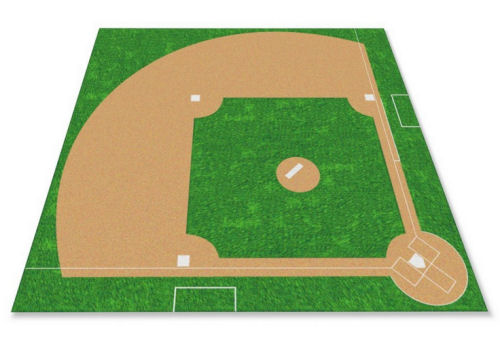 Go here to see
more baseball field rugs in all shapes, sizes and styles.


DIY Baseball Decor for Kids' Rooms
How to Make Your Own Baseball Rugs
If you want to go all out and if you are lucky enough tobe decorating a large space, you could cover a large square area of your baby boy's baseball nursery floor in bright green fake grass and paint baselines in white on the Astroturf. Place your baby's crib right behind home plate for the most effect. What kid wouldn't love a baseball diamond in their bedroom? An Astroturf nursery rug for baby would be easy care and very inexpensive!
If you have a small nursery for baby and decorating ideas involving a bright green rug on the floor don't tickle you, take heart. We have some more cute baseball rugs for baby's nursery that might be winners.
It's always fun to display our favorite team's logo on our favorite belongings. It's a way of supporting our team and letting them know that we love them no matter if they win or lose. Baseball rugs are another creative way of shouting out which team we want to make it to the series. There are companies that specialize in splashing sports logos all over everything, so why not pick up a baseball glove rug that's been personalized with your baby's name?
If it's not too big, you can haul it to the next game and try to get player's autographs! Everybody has them on pictures of their favorite baseball players, but how many people do you know that have autographs on their area rugs? After you go to the trouble to get your idol to sign his name on your sports theme rug, you might not want to walk on it for fear of getting it dirty. This would be the time to think about using your baseball rugs as nursery wall decorations rather than to cover the floor.
Return to Unique Baby Gear Ideas to find more rugs for your baseball nursery decorating project and to find more ways to use baseball themed rugs and accessories to decorate your boy's bedroom.