Flannel Fleece and Cotton Baseball Fabric for Curtains, Bedding and Quilting
Baseball fabric with bats, balls, baseball mitts and even your favorite team's logo is available in all colors and styles and ready to be used in a patchwork baby quilt or used to decorate a little slugger's bedroom or nursery.
Flannel, fleece as well as cotton baseball print quilting fabric is something that will become a staple in any quilter's stash of fat quarters that has a little boy or girl who plays ball on her gift list.

MAKE YOUR OWN BASEBALL BABY RECEIVING BLANKET
If a baseball baby quilt is just too much to tackle maybe a baby blanket would fit in your schedule. A yard of fleece baseball fabric usually costs less than $8 or so per yard for a 60 inch wide piece of material.
With this large rectangle shaped piece of cloth you can easily manage not one but two baby receiving blankets. It only takes a few minutes and a few yards of cotton yarn to finish the edges with a blanket stitch and VOILA; you have a sweet, homemade gift for a friend's baby boy for less than $10! To give your baby gift a personalized look, cross-stitch the baby's initials on a corner or take it to your local monogram shop and have it professionally done.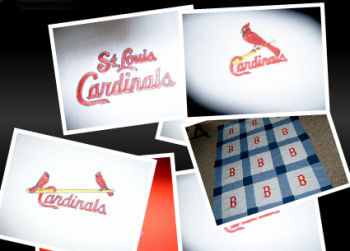 WINDOW TREATMENTS and ROOM DECORATIONS
One of the best ways to save money when decorating a baseball nursery theme or a kids' bedroom is to make your own curtains and seat cushions. If your son's baseball bedding didn't come with matching window treatments, buy a few yards of cotton baseball fabric and sew your own! Use the leftover material for throw pillows or make a set of pillow shams to give that inexpensive bedding set a custom look.



Baseball Posters and Prints for Kids

Baseball Invitations

Baseball Kids Rugs

BASEBALL FABRIC for SPORTS FANS
If generic balls and bats just don't do it, you can narrow down your baseball theme by team. Saint Louis Cardinals baseball fabric as well as fabrics with the Orioles and Boston Redsox' logo are available for the sports fan in your life.
| | |
| --- | --- |
| | |
BASEBALL FABRIC for GIRLS
It's true that there are more baseball themed fabrics that are obviously designed for Little League and Big League fans than there are for girls who play softball. However, at the time I'm writing this there are a few girls' sports theme fabrics beginning to surface with baseball patterns in pink.
If you can't find the exact color or style of fabric that you need for your project please let Unique Baby Gear Ideas know and we will try to help you locate what you are looking for.