How to Make a Clear Picture of a Baby Footprint
Here are some ideas for ways to use a picture of a baby footprint in crafts projects, to make your own baby shower invitations or keepsakes that will last beyond a lifetime. Babies are everywhere and proud parents are always taking pictures of them, so how hard can that be? Well, tougher than you might think. But don't give up on that really cool craft project for the want of a pic of a baby footprint. We're here to give you some tips and ideas for how to find the graphics that you need and put them to good use.







I know that once you gave it some thought you began to realize that of all the videos and photos that you have taken of kids, you never took the first photo. Why should you? You have the freshly inked footprints that they made of your newborn immediately after your infant's birth and how many more pics of baby feet could you need? This is one of those situations where you didn't realize how rare an item is until you start looking for it.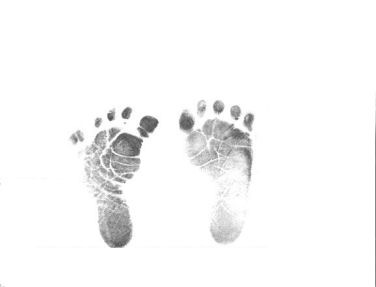 Never fear, necessity is indeed the mother of invention and even if you haven't loaded roll upon roll of black and white or color film with pics of baby footprints, we can come up with a few images for you. You can use whatever color ink that you want; baby boy blue footprints are pretty baby girl pink footprints. The best way to proceed is to first dig out the official picture of a baby footprint that you got from the hospital along with baby's birth certificate. These footprints are a precious baby keepsake that you want to preserve at all costs, but if the footprints are clear a quick scan won't hurt a thing. The images may turn out good enough that these will supply you and your friends with a clear picture of a baby footprint. Once the pics are scanned, any smudges can quickly be erased with some good photo editing software.
You will be amazed at all the cool stuff that you can do with your picture of a baby footprint! You can adjust the size of the pics to print on so many things! Here are some ideas for your picture of a baby footprint!
Change that boring black ink in the baby footprint pictures to footprints in baby boy blue or baby girl pink and reduce them in size to decorate a custom made footprint baby invitation.
Use the baby footprint pictures to make stencils. What can you do with baby footprint stencils? Lots of stuff!
Mat and frame a copy of the pictures of baby footprints in a pretty baby keepsake frame along with other photos to give as gifts
Use your picture of a baby footprint to personalize the front of a scrapbook
If you don't have any babies, you're going to have to get more creative in your hunt for that picture of a baby footprint. Baby footprint graphics online are not easy to get so you're going to have to make your own from scratch. Do you have a friend who has a new baby? If so, beg to borrow her pics of baby footprints long enough to make some computer files. For a mom who won't let the images of her baby's footprints out of her sight, take your camera with you and do the best that you can.
You may have to rely on the kindness of strangers to get a really good picture of a baby footprint. Make a trip to the discount store and get basic baby footprint supplies. I'm not talking about a baby footprint kit with plaster, decorative frames and all that stuff. I mean get some heavy card stock and an ink roller or pad with washable ink. Call a daycare and offer to show up and have a baby footprint photo session with a set of pics for each participant! First, offer to show any and all identification and state your reasons for needing a picture of a baby footprint so that the daycare workers won't be afraid of you! You may want to have a permission slip already worded and typed for the daycare to give parents to sign as they need to know ahead of time if baby is coming home with inky little feet! This method of getting a graphic, image or picture of a baby footprint and handprint would be the most time consuming, difficult and for those reasons my last resort, but if you need those baby footprint pics and can't get them any other way this may be your only recourse!
You may feel that your efforts have not produced the best footprint pic in the world, but take my word for it that the baby who supplied those feetprints is the sweetest most precious baby in the whole wide world!
I hope that this article has given you some ideas for personalized baby gifts to make as well as some Unique Baby Gear and Nursery Ideas where you can put your sweet baby's footprints on display.