Newborn Baby Footprint Kits and Craft Ideas
Who would have ever dreamed there would be so many cool baby footprint gifts and crafts? I wonder if the baby doctor or nurse that made those first tiny footprint images on paper as official records would roll their eyes in wonder at how stylish those graphics have become. I doubt that in those days that he or she gave a moment's thought to whether or not that little foot was being coated in toxic ink.



More pages with cute baby handprints and footprints crafts and gifts on this website.


Today we take the utmost care to be sure that we have safe and washable baby ink. Footprint procedures have come a very long way from the early days when knowledge of chemicals was very limited and unwanted infant footprints were all over the walls, floors and ceilings. Big families were the norm and nobody had much time to bother with mementoes, memory boxes and record keeping. However, the modern family might have one or two children, so those precious newborn footprint keepsakes are very important.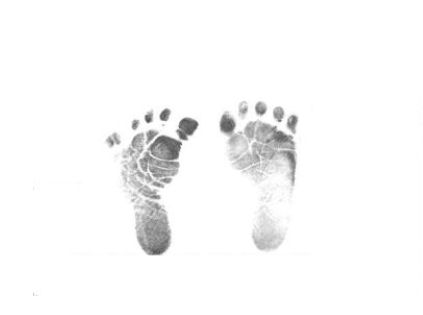 SEE MORE HERE
FOOTPRINT CRAFTS
For the cost of an inexpensive baby footprint stamp and an inkpad you have the basics for decorating everything from your personal stationery to invitations to your friend's baby shower.
You might also consider using your little one's "deer" little footprints on your Christmas greeting cards or invitations.
With just a few dots for eyes, a single footprint is transformed into something spooky but fun.
Change the background color to orange and the "ghost" to white for a completely different look.
Baby footprint stamps come in all sizes to fit most any area or project that you might have in mind. I like the idea of a border around the walls of the baby's room made with a large stamp. You could stamp the footprints in blue ink for a baby boy, pink for a baby girl or plain black ink for a gender neutral footprint border.
FOOTPRINT FRAME
Of course any cheap picture frame can be embellished with footprint graphics. A tiny pair of footprints stamped tastefully in the bottom corner of the frame would give an old picture frame a brand new look that would be right at home in the baby's nursery.
There are newborn footprint frames that give new parents the opportunity to make a timeless baby keepsake footprint plaster cast to display on one side of the double frame and an actual picture of the baby that the footprint belonged to on the other side of the footprint frame.
BABY FOOTPRINT KIT
Once upon a time, the only kind of footprint kit that was available involved ink and a piece of paper. Then came plaster kits where mom and dad might catch an infant sleeping and manage to get a set of baby hand and footprints without making a complete mess. With baby hand and footprints becoming so fashionable and trendy as nursery decorations and keepsakes, there's a kit for any kind of baby hand or footprint keepsake that you might desire.
BABY SHOWER FOOTPRINT INVITATIONS
Footprint baby invitations are a piece of cake. Any blank folding card with a stamped foot or handprint on the front will pass with flying colors. Another pair on the flap of the envelope and your work is done! Baby shower footprint invitations are special enough, but if you are clever and can manage a short, sweet footprint poem on the inside along with your invitation wording and details then you will indeed be considered the hostess with the most creative ability on the block.
BABY FOOTPRINT GRAPHIC AND IMAGE IDEAS
So what does a crafter who wants a baby footprint graphic do if she doesn't have any pictures or images on hand? There are some occasions where a stamp just won't work and a real picture of a hand or footprint is necessary, so where can we get a real footprint image to use in our project? We would be a pretty sad baby website if we only offered clipart, wouldn't we? Do a search for a free online baby footprint image that you can download and use for your footprint crafts or you can use my baby's so long as:
there is a "dofollow" link to this page
proper attribution
do NOT use it to promote or sell a product, use it for personal use ONLY
Please include our link if you use the baby footprint picture online to give us credit as well as to let others know where they can locate a free baby ink footprint graphic for their personal use.
Visit Unique Baby Gear Ideas to enjoy many more baby footprint crafts and decorating ideas. Please feel free to browse our gallery of pictures and decorating articles.