Bird Baby Nursery Design Pictures with Homeade Bird Craft Ideas and Decorations
As you will see from our bird baby nursery design pictures, bird themes are a wonderful idea the whole year and not just in spring. DIY decorators have come to realize that there is a place for our feathered friends even when we are planning to replace our lightweight cotton crib bedding with warm, fuzzy flannels and fleece fabrics. The appeal of baby birds is such that they can be as much a part of our nursery design in fall as they are in spring.




Could there be anything sweeter to use as a theme for a baby's room than these delicate creatures? On this page you will see pictures of stylish nurseries filled with ideas for that I like to call "Bird House Decor" and craft projects that will get your baby's bedroom ready for his or her arrival.
IDEAS for a BABY BIRD NURSERY THEME
One of the classic signs of spring would be the first sighting of robin red breast on the front lawn and birds are loved by boys and girls alike, so let's explore some baby nursery decorating ideas that makes good use of birds.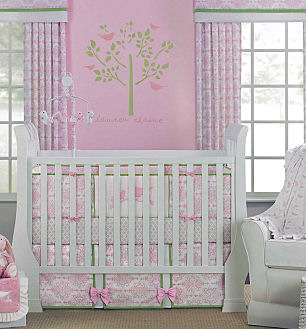 A Spring Bird Theme Nursery Design
Bird crib bedding can be colorful, rustic or very feminine; it just depends on the style. If you like bright, primary colors, decorate the nursery around blue birds with a rosy pink breast. Find a crib mobile that has your favorite birds to entertain your baby. If the birds aren't the right species, perhaps a makeover is in order. A little creative work with some colored markers could do wonders in turning a plain brown sparrow into a robin.


THE COLOR SCHEME
Tone the spring colors down with twigs, bird's nests and trees with fresh, green leaves. Unique bird baby nursery design ideas might place the focus on a particular type of bird such a robins, bluebirds, yellow finches or any bird of your choosing. I used these as an example because of their cheerful colors that make me think of spring.
Choose the inspiration for your baby bird nursery that you feel will contribute the most to your color scheme. Feathers come in all colors so nature has you covered whether your preference might be a palette of primary colors, pastels or earth tones.



CUTE! Pictures of Baby Nursery Bird Decor


SHARE IDEAS - PICTURES of BIRD NURSERY DECOR
Do you have a great set of baby bedding or a picture of a nursery that you decorated in a baby birdy theme? Share it!
BIRD NURSERY PICTURES, IDEAS and SUGGESTIONS from our FRIENDS
Click below to see contributions from other visitors to this page...

Pink Baby Bird Nursery Ideas

Pink and Brown Bird Nursery Pictures

Pictures of a Baby Bird Nursery with Painted Pink Wall Stripes

Blue and Orange Baby Bird Nursery with a Tree Wall Mural

Colorful Baby Bird Nursery


Spring Nursery Wall Decorating Ideas
If you have a place in the room where the wall is open from the floor to ceiling, imagine a tree mural where you can paint bird nests with eggs in robin's egg blue or pretty speckled eggs in ivory or off-white. Or even better, use some of the cute, vinyl bird wall decals and stickers to load the branches of your tree's branches so that you won't have to worry about painting your baby birds yourself.
Bird House Nursery Decor
Another cute theme and nursery decorating idea that has to do with birds would be bird houses. Hang a few wooden bird houses on cords of varying lengths from the ceiling, display them on pretty, painted wall shelves or paint a few in your mural. You can give your spring theme wall decorations a 3D look by painting a few birdhouses as well as including a few small wood bird houses hung from the branches.
Please make plans to visit Unique Baby Gear Ideas often to stay up to date on the latest bird themes and nursery designs as well as many other nursery themes for baby girls and boys.