The Bold and the Birdy-ful Nursery
by Lindsi
Our Baby Girl's Bold and the Birdy-ful Nursery Decor w Bird Prints and Custom Baby Bedding Sewn from Amy Butler Fabrics
We have titled our baby girl's room as "The Bold and the Birdy-ful Nursery" and when you see the pictures that we took of it now that it's decorated; you will understand why. Even though I had plans to steer clear of decorating with any sort of "themed" nursery design and to place the focus on a carefully laid out color scheme, the sight of our bird nursery theme made me smile as soon as I opened the door. I had clearly not avoided the concept of using themes for inspiration as I initially set out to do but it all worked.




The bird artwork that I fell in love with trashed my plans and put me on a completely different path, a different one than I had ever thought I would follow.



There are those moments in life when you know that changing course is the right move. When I saw the bird prints in a Pier 1 mailer I knew that this was one of those moments and went out the very next day to get them.



Go here to see more.

I saved my receipt just in case I decided against the bird prints.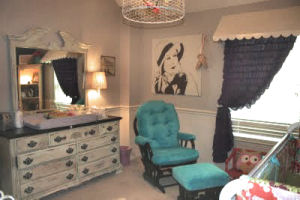 I knew I wanted the wall that the prints and crib are on to "pop," since that they are the first thing you see when you open the door and these prints were just what I needed.
During one of our
MANY
(ha ha) snow days in Dallas this winter I tackled hanging the nursery wallpaper that I found at Bed Bath and Beyond.
Nursery Furniture and Craigslist Finds
After the wallpaper was in place, my husband and I combined our efforts and dove head first into our first refinishing project, the dresser we got on Craigslist for $50. The baby's crib can be found for over $200 at Land of Nod but we bought ours on Craigslist for a nice discount at $120.
The slim pink dresser and hot pink bench are from Nadeau Furniture. The nursery glider was a floor sample that we bought for half price at Lonestar Baby. I had it recovered for to match the room for $100.
CUSTOM BABY BEDDING - AMY BUTLER FABRICS
Monique, of
SEW FUN by MONIQUE
of course helped me design the crib set. It didn't take that much leg work on the front end since I pretty much love any sort of Amy Butler fabric. We collaborated on the fabric selection and the style of the bedding and came up with the ruffled bed skirt which gives our
baby girl's nursery
that extra "girly" flair. :)
Here's the rundown of fabrics all from Amy Butler's Love fabric collection:
Bliss Bouquet teal

Sandlewood tangerine

Cypress Paisley lime

Sunspots olive

Sunspots turquoise

Tumble Roses tangerine

Arabesque lime

Monique
BIRD THEMED NURSERY LIGHTING
I knew from the beginning that I wanted to remove the brass ceiling fan from the room and replace it with a ceiling light fixture that not only made a statement but one that fit the design of the room (within our budget of course.)
I combed the internet for ideas and found a bird cage theme light fixture at Urban Outfitters for $99. I wasn't convinced that either the "look" or the "price" of the light fixture was right so I decided to use some ingenuity and make the light fixture myself.
I made the bird coop light fixture myself for $50. I paid $40 for the paper lantern at IKEA and $10 for the birds, branches and chicken wire. Here's a simple tutorial; I just ripped the paper right off the lantern and replaced it with the chicken wire. It was so easy (and cheap) to make and it's one of my favorite things in the baby's nursery!
The Bold and the Birdy-ful Nursery Wall Decor
The large art print of the girl came from IKEA and cost $50 and of course, she had to have a pair of her mama's point shoes somewhere in the room. The "L" wall boasts pictures of both of our baby girl's grandmothers when they were little girls, a Bible verse her daddy picked out that I painted on a plaque and a lovely retro piece of Noah's Ark embroidery that a friend gave me as a special gift.
Well, that's the end of the Bold and the Birdy-ful nursery tour! I hope that other bird-loving visitors of
Unique Baby Gear Ideas
have enjoyed our baby girl's nursery pictures and if you have any questions, please free to use the comments section to ask questions.