Baby Bird Mobile Ideas, Baby Bedding and Decor for the Nursery
When I saw these beautiful pictures of a nursery with a stuffed bird mobile over the crib, I knew that I had to share them with our visitors. Quilters will recognize the association of the bird crib mobile and the flying geese baby quilt decorating the side of the contemporary white baby bed.



Visitors Who Like This Page Also Enjoyed these Pages:

Baby Bird Theme Nursery

Pink Bird Baby Nursery Ideas

Bird Nursery Theme

I have seen quite a few homemade birds that were used as decorations on mobiles. I usually find them perched on natural tree branches. However, this particular crafter's use of unfinished dowel rods was more in keeping with the modern look and feel of this nursery.
Gloriana, of A Mingled Yarn, who made the bird crib mobile states that she considered using actual tree branches but didn't like the idea of them hanging over the baby's bed. This concern for the baby's safety motivated her to design a different, possibly safer style of mobile.


Baby Bird Nursery Ideas

Pink Baby Bird Nursery Ideas

Baby Bird Nursery Wall Mural

Hot Pink Bird Nursery

Colorful Birdy Nursery Ideas

BOLD Bird Baby Nursery Ideas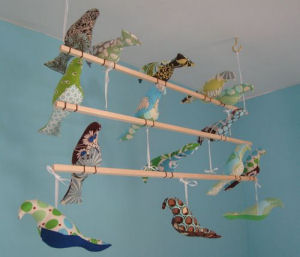 BABY BEE'S BIRD BABY CRIB MOBILE




SEE MORE HERE
BIRD BABY NURSERY DESIGN DETAILS
BIRD DECOR NURSERY
Necessity is the mother of invention and in this case; creativity! The challenges that she faced were many according to her post. There were difficulties in getting the stuffed cloth bird mobile balanced and getting the cloth birds to stand upright. This was resolved by adding a few copper pennies inside the birds with the stuffing which added enough weight at the base to give this unique
baby bird mobile
stability without sacrificing its stylish appearance.
Description of the products used in the nursery pictures:
The blue and green polka dot nursery curtains were from the "Katie Jump Rope" collection by Denyse Schmidt.
Nursery wall paint was, Harmony, a no-VOC paint from Sherwin-Williams Paint Company
The convertible crib and other modern nursery furniture was purchased from IKEA, Walmart and Target
What I love about this unique nursery theme is that the stuffed cloth bird mobile gives a nod to bird decor without coming across as a "roost". The clever nursery fabric combinations, the bird motifs and the Sesame Street framed art on the walls create a pleasing, eclectic mix of themes that all come together in an uplifting fashion. The mix gives us a taste of nature, traditional crafts and pop culture in one sweet space.
Return to see more bird baby nursery ideas in our nursery pictures gallery that will inspire you to design a very special place in your home to welcome your baby.