Pink Bird Nursery Decor
by Hanna
(Fort Worth, Texas, USA)
Our baby girl's pink baby bird nursery features some DIY projects like the pink giraffe growth chart that my husband made and the wall painting technique that we did together as a team. We painted the alternating dark pink and light pink stripes on walls over the existing paint color.

We also painted the antique cabinet that was once maroon to match the color scheme that we had laid out and decorated the sides of the piece with painted pink birds and branches.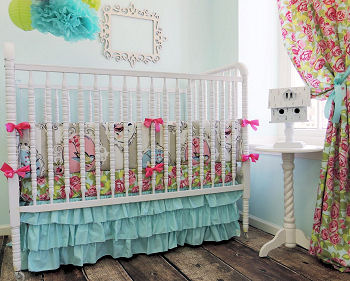 Go Here to See More
I made the
bird baby mobile
myself using birds and hearts made from felt.
The bird theme baby bedding came from target. The crib set's fabric is a mix and match of light and dark pink polka dots and pink birds.
I repainted the little wall shelf on to match the theme of our
Pink Bird Nursery Decor
design.
The nursery's curtains were purchased from Urban Outfitters. I shortened them and used the fabric that I removed to make frilly, ruffles at the bottom.
The side table once belonged to my great-grandmother and we repainted it to match the room.
The vintage milkglass lamp was my great aunt's, I altered part of it using enamel paint and decorated the lamp shade with dark and pastel pink ruffles to match the style of the rest of the pink bird nursery theme and made a cord cover for it to give it a finished look.
The desk chair was mine that I had when I was a child. I repainted and re-upholstered it to freshen it up.
The painting over her changing table is a portrait of our family that I painted and close to it is a custom cross-stitch piece that my sister made for us that is personalized with our daughter's name and birthdate.
Our baby girl was adopted from Ethiopia and we kept ourselves busy decorating our baby girl's pink bird baby nursery while we were going through the adoption process. The
bird nursery theme
was very much a labor of love with a lot of work going into bringing our
nursery decorating ideas
to fruition but the end results are that it is a very joyful space and I love being in it.
hanna