Cute Baby Invitations with Baby Footprints for Baby Showers
You can make these cute little footprint baby invitations to invite all the guests to the baby shower for a very inexpensive price! We have printable baby footprint graphics to copy so that you can print the pictures on the little tags.

However, you can make your own unique little footprint images and we will tell you how in our easy to follow instructions.

Make your own invitations using a Baby Footprint Stamp
Baby Hand and Footprint Picture Frames
Baby Hand and Footprintsgraphics.
Baby Footprint kits and crafts.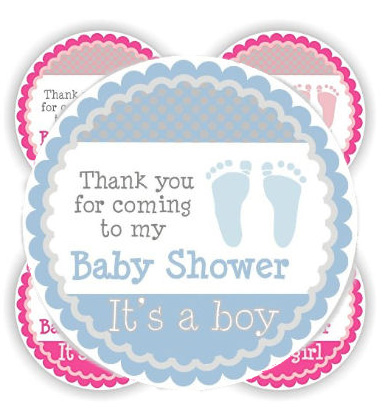 Go here to see more
footprint invitations for a girl or boy.


If you don't have a baby hand and footprint stamp in the right size, here's how to make your own. It would be very easy to draw little footprint shapes directly onto the tags, but they wouldn't have those precious creases that make baby's first hand and footprints so special and cute on our baby invitations. The little crinkles and creases are what make our faux baby footprints look just like the ones that are made right after baby's birth and included with the birth certificate.
Take a black marker and draw the small baby footprints onto your own fingers to get them ready to stamp onto your homemade invitations. One lady recommended that the ring finger and the pinky were the best fingers to use, but I found my pinky and index finger worked well for me. You will have to draw both the left and the right footprint, so you might want to do a series of right footprints and stamp them onto your baby invitations and then finish up with all of the baby's left footprints.
I think that you will be very happy with the results and proud to send your footprint invitations to your baby shower guests.
The little tags that we stamped the footprints on can be located online or in office supply stores. The bow on the string attaching the footprint images to the card is a small piece of colored tissue paper. You can change the color of the embossed card stock to any color you need for your baby invitations with footprint images to compliment baby shower's color scheme.
You can also change the color of ink that you use for your baby footprints. If you already know the sex of the baby that's expected, you have the option of blue ink for a boy's baby footprint invitations or pink for a girl's baby invitations.
Don't wash your hands once you finish stamping the baby invitations! You will need to save your baby footprint images and graphics to decorate some pretty envelopes for your invitations. A tiny pair of footprints on the lower left corner or the sealed flap of the envelopes will be a precious way to put a finishing touch on your project.
For more baby shower footprint invitation information return to Unique Baby Gear Ideas.
There is an adorable baby footprint gift tag to make that was shared by a user on Flickr that goes by the name liquid paper.