Creative Combo Baby Dressers and Changing Tables - DIY Nursery Furniture and Dresser Ideas
Baby dressers that come as part of your nursery furniture collection give the room a classy look. On this page we will check out the latest styles in combo changers and dressers as well as DIY dresser ideas shared by creative parents that recycled, painted and transformed old furniture into something fabulous for their baby's room.




Even if you have plans to buy baby tables, dressers and all the pieces you need at the same time, you should examine all the available features that each manufacturer has to offer. Most collections offer several different finishes some more practical and durable than others. Even the traditional chest of drawers (which usually has four drawers with an overall height of approximately 40 inches) can be made more or less suitable for a child's room.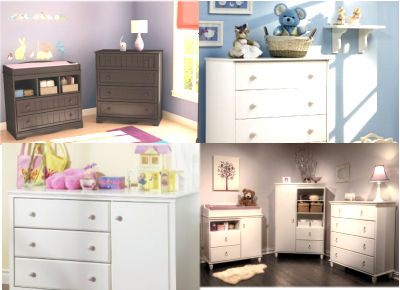 Go Here to See More
There are combo dressers and changers that are both a thrifty use of space and a mom-to-be's nursery decorating budget.

The makeovers are not limited to dressers but also may include other painted nursery furniture makeovers such as changing tables, etc.


Wooden night stands are ideal for a small nursery.
Even the old pulls can be cleaned up, painted and re-used.
There are dressers with a dark, masculine finish perfect for a
baby boy nursery
, pastel colors for a
baby girl nursery
and the ever-popular pure white that is completely unisex for a
neutral nursery
.
Personalize your baby's furniture with one of the easiest DIY projects ever by simply changing the knobs. You can make your own drawer pulls or buy them in any color or style you choose.
Secondhand stores contain a virtual treasure trove of furniture that can be painted and given new life in a child's room.
This vintage dresser was painted with antique white paint and then embellished with a pretty floral design that would be lovely for a baby boy's girl's room.
Paint selection might reflect the colors contained in an inspiration piece or chosen theme and there are endless shades to pick from but whatever the color; the paint should always be baby safe.
Painting Ideas for Dressers
Try your hand at painting the trendy colors and patterns of the day on your baby's dresser.
One of the crafty moms that visit our website uploaded pictures of a project that she completed for her baby girl's nursery.
Here are some examples of nurseries where moms and dads, using their own creative ideas, painted and designed a unique one-of-a-kind dresser to fit the color scheme or nursery theme of their little one's room.
Recycled, thrift store furniture finds can be painted in bright colors.
Never be afraid to add a pop (or two or even three!) of bold color in your baby's room.
A dresser changer table combo painted in black and white stripes with glass knobs looks amazing in a nursery decorated for twins.
For those who don't trust their painting skills; a painted dresser with a stenciled design would be an easy craft project for a beginner.
A plain, white piece can be improved using a large, damask stencil pattern.
An old wooden chest was painted blue and then detailed with hand painted ladybug drawer pulls.
The changing table dresser combos are very popular with all parents and are an especially wonderful space saving option for moms working to get as much storage as they possibly can within a relatively small nursery.


This
purple and black nursery
changing table or dresser painted purple, black and white has a design that was stenciled using a vintage, lace tablecloth with a floral design as a pattern.
You can also find baby cribs with attached dressers so that you can scoop baby up, change a wet diaper and slip them back onto the crib mattress without ever waking baby out of a peaceful sleep!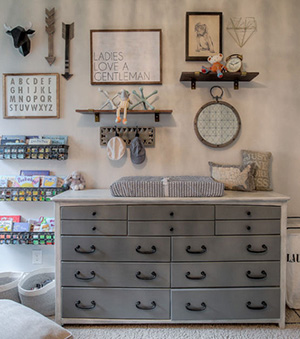 Grey Black and White Nursery Dresser A dresser painted in grey and white with black drawer handles makes a bold statement and a handy changing table in a baby boy's nursery.




The baby changing table and dresser combo is exactly what it sounds like; the baby furniture manufacturers came up with stylish, modern combinations of changing tables and dressers. Basically what we have here is baby changing tables with drawers instead of open shelves. Open shelving is fine for storing baby's bath products and extra diapers. Drawers will get all of the toiletries out of sight plus there's room for folded baby clothing ready for a quick change and you can do all this and never leave your baby's side. You can get them to match your sleigh cribs, traditional baby cribs or practically any style of modern crib that you may want.

These wood dressers are made up of three roomy drawers with a soft foam changing pad on top. Years ago a mom might have put a folded blanket on top of a low wooden dresser and made her own combination baby changing table dresser combo, but now that's all been done for us and there are some nice safety features thrown in for good measure.

Dressers for babies should include an attached safety strap or belt and safety rails on the front and back of the dressers if they are to be used to change baby's diapers. You can never have too many safety features included with your baby gear! Consider outfitting all of the drawers in your dresser and elsewhere in your home with easy to use safety latches.

Baby proofing your dresser drawers is a great idea because we can do without dealing with pinched fingers! Baby proof the nursery's dresser or chest of drawers by attaching the furniture to the walls using special baby safety hardware so that heavy furniture won't be likely to fall on baby when he or she gets mobile and begins to climb. Install the drawers so that they have to be picked up in a special way before they can be removed from the dresser. This will help make the nursery furniture safer as your child won't be able to easily remove the drawers that might fall on his head! The general rule of thumb is safety first, baby whether dealing with a chest of drawers, an armoire or any other kind of furniture!

While I'm a big fan of recycling furniture, there are many reasons to buy baby cribs and furniture including your baby dressers that are specifically built to be used in kid's rooms. Some of the reasons would include:
Non-toxic materials used in construction
Baby safe hardware and drawer pulls
Storage compartments, diaper dispensers and other amenities for lots of baby stuff
If you can't find baby dressers and bath stations or a baby dresser changing table combination or whatever kind of baby furniture that suits you in the stores, you always have the option to build your own baby furniture. Get a set of free dresser woodworking plans here and make your own changer dresser combo. You can learn how to build classic baby dressers and stain or paint it in whatever color you want! It's cheap and many handy workworking enthusiasts find building their own wooden furniture to be fun! If you don't find a set of free baby furniture plans that you like, you can buy cheap baby furniture plans for:
Wood baby dressers
Armoires
There are pros and cons for all baby dressers, but if you take your time and check things out you can get the best baby dressers for you and your baby!
For more information on nursery furniture for baby refer to our articles at Unique Baby Gear Ideas