Purple and Black Punk Rock Nursery for a Baby Girl
A purple and black punk rock nursery is the perfect design for a baby girl with a unique name like Wednesday, don't you agree?  Mom, Rebecca and her fiancé were in agreement that they wanted a unique room for their firstborn.  The traditional pink princess nursery didn't fit with their decorating tastes.    
We are so happy to share photos of the nursery project with you that I am certain will inspire our visitors to think outside the box.
The time has come to overcome our fears and march to our own drummer and follow Rebecca's lead in adapting a traditionally "edgy" style of décor to fulfill our own vision of baby's first room.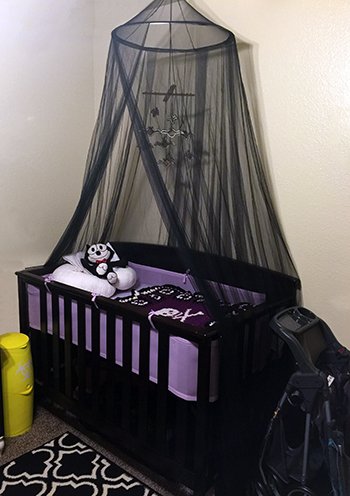 Rebecca found Wednesday's nursery furniture set in the local Craigslist classifieds.
The original finish of the set was the standard white factory paint color. The "well loved" furniture was at least 12 years old with plenty of dents and bruises.
Putting the same creative energy to work that she incorporates into her profession as a tattoo artist; she couldn't wait to paint and decorate the set to match her
punk rock nursery
theme idea.
How to Paint a Baby Armoire
We painted most of the furniture with paint that we bought from Home Depot. We used panels of old lace to create the lacy flower designs on the drawers of the armoire. The lace was positioned over the drawers where we wanted the design and then we spray painted over it. When all of the paint was completely dry we went over it with clear coat.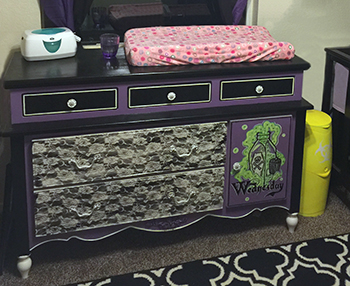 A beautifully painted baby dresser or changer in purple and black that has been personalized.
Diaper Genie
Wednesday's bright yellow diaper genie was made from a regular trash can. We had the bright idea of turning it into a bio hazard bin using some paint and a sticker that we found on Amazon after her dad joked about how hard it was going to be for him not to puke for the first couple of diaper changes.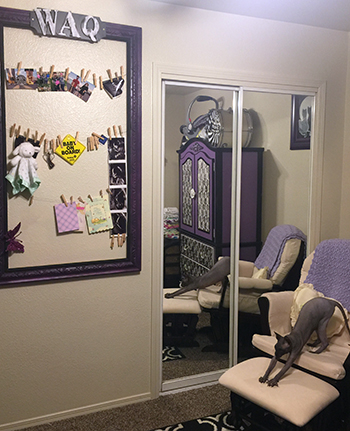 The picture that has been painted purple to compliment the color scheme of the rest of the purple and black punk rock nursery holds photos of Wednesday's birth announcement, baby shower cards, and ultrasound photos. Becca told
Unique Baby Gear Ideas
that this was a very simple crafts project consisting of a giant frame, wire and some clothes line clips.
Friend and Family Contributions
Tons of Becca's family members and friends contributed to the nursery's decor by making custom things like skull blankets, the
bat baby mobile
, diaper bags that have vintage drawing of witches with red silk lining like a coffin might have inside. She says, "I know it sounds odd at first but when people visit our baby girl's nursery they feel a sense of calm and serenity."