Boy and Girl Twin Nursery Ideas
by Nancy
(Bonney Lake, Wa)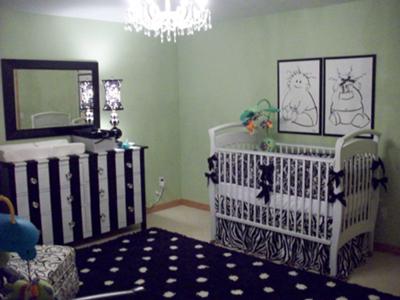 Boy and Girl Twin Nursery Ideas incl. Black and White Polka Dots, Stripes and Lovely Sage Green Nursery Walls Decorated with Original Artwork
We came up with boy and girl twin nursery ideas to decorate our babies' room based on the possibility that we are having a boy AND a girl.


The decision to go with a black and white color scheme softened with a soft sage green on the walls was made in order to keep things gender neutral.



We wanted an attractive nursery for our twins, but to keep our nursery decorating expenses down.
Go Here to see more
. In order to accomplish this
we had to become very creative.
We took a dresser that we had on hand and painted it in black and white stripes and dressed it up with large crystal knobs.
We bought two used
baby cribs for the twins
and painted one black and one white. These set the tone for the room and inspired us to blend traditional black and white prints and patterns seen in the room's decorations.
I made the crib skirts out of a Zebra print fabric that I found online and a friend made the bumpers out of elegant black and white damask fabric.
The framed art prints that you see in the pictures over the crib were actually part of our twins baby shower decorations. We thought they were so cute that we framed them and incorporated them into our boy and girl twin nursery ideas and decor.
The window valance was purchased through a local company as well as the swivel glider and matching ottoman.
As finishing touches, we added the black and white polka dot rug and white chandelier with crystals to top it off. The black and white table lamps were being used to light the guest room and the side table was also in a spare room. The lamps were perfect as they were, but we had to repaint the little table.
Once we had all the basics of our boy and girl twin nursery theme in place, we changed out the closet doors and replaced them with white louvered doors and added the same large crystal handles that we used on the twins' dresser.
It was so much fun to put together!
From the Webmaster
:
I LOVE,
LOVE
,
love
your decorating ideas for your twins' nursery. The way you played the patterns off one another rather than to complicate the color scheme is pure genius!
Would you mind sharing more of your
baby nursery pictures
with us? You could upload your pictures of your
twins nursery theme
using the same method as you used for your contest entry or you can email them as an attachment to uniquebabygear at bellsouth dot net.
If you have questions, you can leave them as a comment using the form provided by
Unique Baby Gear Ideas
.