A Slightly Different Nursery
by Jan
It brightens my day when I happen upon a slightly different nursery design to share with my visitors. By slightly different, I mean not pink, blue or decorated with teddy bears and the like but totally gorgeous.


SEE MORE HERE
Traditional baby nurseries have their charms but there's nothing more uplifting than a space filled with whimsy and originality like Vera's nursery designed by her mom, Dawn, of designingdawn.com who has agreed not only to give us a tour of her baby girl's room via pictures of the
baby's nursery pictures
but to answer questions that may provide important clues for how to go about decorating an amazing nursery of your own.
Q
Did you enter into the project with a particular goal in mind?
A
My goal was to include a variety of bright colors in the nursery's color scheme. I think bright colors are whimsical and fun and add more of a childish feeling to the room.
Q
How would you describe the decorating style of Vera's nursery?
A
I would say that it is a modern eclectic design since there are pieces with clean lines and contemporary colors (like the charcoal color walls) but they are balanced by quite a few eclectic pieces and no two pieces were purchased at the same time. The room really has a feeling of a collection and I love that. It's filled with items that I found and bought just because I loved them not because they were needed to complete a certain style.
Q
Where did you find Vera's crib set collection?
A
Her baby bedding definitely wasn't purchased as a set. I found the crib sheet at Kid Stuff Superstore, the skirt was ordered from Amazon and the quilt came from Francescas collections.
Q
Where did you find Vera's unique 3D wall decorations?
A
They were a wedding gift, but I believe that they came from Bed Bath and Beyond.
Q
Could you tell me how you attached them to the wall?
A
They are actually designed to attach to a wall. There are small metal pins (like thumb tacks) that you stick into the wall, then the plastic flowers snap onto those.
Q
One of the most eye catching features that set the tone in this slightly different nursery design is your brilliant choice of colors. What is the name of the gray paint color on the nursery walls and the blue on the dresser?
A
The wall color is Porcelain Shale by Valspar and the dresser is painted in a color called Swim, also by Valspar.
I was really against using a color palette that shouted "baby" and let me tell you that it was more of a challenge than I had imagined. It's very difficult to find furnishings and decorations to use in decorating a nursery that aren't in pastel colors. If this is the route you choose, be prepared to be a little more creative and tackle the occasional DIY project.
Q
And speaking of the dresser; could you tell us more about it?
A
The baby's dresser is a hand-me-down from an old set that my grandmother had. It's been with me since I furnished my first apartment fresh out of college. It was originally painted a cream color that I updated to distressed black that suited my apartment's decor. And then I decided whether we had a baby girl or boy this lovely aqua blue color would be perfect.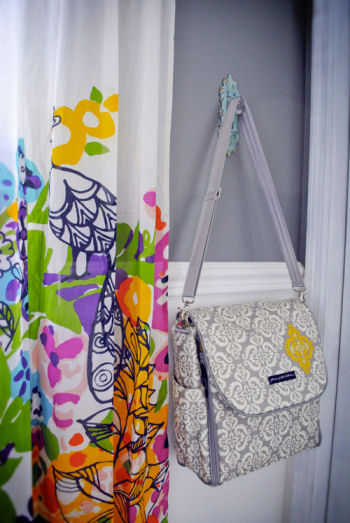 Q
The nursery curtains seem to have a splash of every color in the room! Were they your inspiration piece?
A
After I found and bought the curtains at Urban Outfitters decorating the rest of the nursery went pretty much full steam ahead. I haven't found a better resource for curtains for any room of our home than Urban Outfitters. I LOVE to add bright colors and bold patterns to the room using window treatments and in my experience this store has very affordable prices and the most unique styles.
Great prices are very important to me. I'm (sometimes unrealistically) cheap, and love to shop at consignment stores, thrift stores and sales where you can find such great frames to paint like the one that I used to frame the "V" nursery
wall letter
.
And so goes the tour of our "
slightly different nursery
". The ultimate goal was to create a bright, colorful and fun filled space that Vera can grow into.
If you see something in the nursery pictures that we haven't covered in our Q&A's, Dawn has provided a complete list of
shopping resources
on her blog,
Designing Dawn
and there are more pictures of her baby girl's nursery there that you will want to see as well!