How to Decorate a Transitional Nursery
by Jan
View of the baby's traditional/transitional nursery. The colors are teal, aqua blue and avocado green.
Molly from Happy Casa is here to give us some tips for how to decorate a transitional nursery and share pictures of her baby's nursery, wall paint color suggestions and where to find the crazy cute baby bedding set.


Something else that I'm sure that our visitors will be interested in would be the crib that Carl (the baby's dad) made himself!





Go Here to See More
I'm will be asking Molly (the baby's mom) lots of questions about decorating a nursery what we see in the pictures.
If you have a question about something that I neglected to include in the Q&A session that follows you are most welcome to ask her in the comments section below the feature.
Q
How would you describe your decorating style? For example would you label Cam's nursery modern or is it decorated in a traditional design?
A
We are fairly traditional, but also like furnishings and rooms that have modern clean lines. We included some traditional features in the space like the wainscoting but the crib is very modern. Since there is a blending of two very distinctive styles, I consider our style transitional.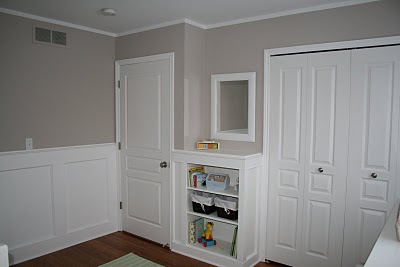 Q
I see that you went with a neutral paint color on the walls and added a variety of colors that accent but keep the atmosphere very cool and breezy. Could you give us an idea of how you chose the nursery's color scheme?
A
I didn't want the typical pastel color palette that you see in so many nurseries, but I wanted shades of green and blue. I believe that I accomplished this goal using a teal, aqua blue, avocado green color scheme.
Q
What is the name of the wall paint colors that you used above and below the wainscoting?
A
I believe we just went with True White for the wainscoting. Above it, we used a color called Sierra Madre from Ace. But I want to mention that is a color from 2007. The company has since changed the color that matches up with that name. It's my favorite color in the house!
Q
It looks like you were able to find the perfect crib set with the exact combination of colors that you were looking for! Where did you find it and do you have the name of the collection?
A
The baby bedding is from Land of Nod from a collection called Full Circle. The pillow on the chair is also from the bedding line.
Q
The framed artwork over the baby's crib is perfect! Was it offered as part of the "Full Circle" bedding collection?
A
I actually bought the artwork from an Etsy seller, Sugarfresh, and chose the custom colors. The frames were bought separately from the artwork and are from Pottery Barn Kids.
Q
I believe that your nursery furniture is the modern element of the nursery's decor. Could you share a resource for the collection in case one of our reader's would like something similar?
A
Anyone looking for an identical crib may be disappointed. An exact copy will be difficult or even impossible to find because ours was custom made by my husband and father-in-law but the baby's dresser is from the Hemnes line at Ikea, and I love it! They also made the built-in bookcase.
Q
A well-designed nursery such as this usually has a very efficient storage area. Did you add shelving in the nursery closet or any special organizational features?
A
We installed a Rubbermaid Closet System and it's a lifesaver. It was very easy to install! At least that is my opinion since my husband installed it while I was pregnant and I just observed the process while sitting on the floor.
Q
Are there any details about the furnishing, fabrics or sentimental items in the baby's room that you might want to mention.
A
I love that my husband made the crib himself and that we have a piece in the room that is solely ours!
There are lots more pictures and tips on how to decorate a transitional nursery on my blog, myhappycasa.blogspot.com that other moms might find helpful and if there is anything else they need, they can just let me know!