CITRUS COLOR NURSERY IDEAS
by Lindsey
(Sonoma, CA)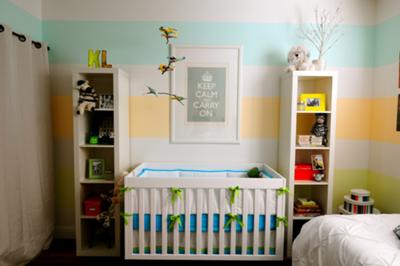 Aqua Blue, Yellow and White Striped Baby Nursery Wall Painting Technique
In my opinion, the most outstanding of all of our citrus color nursery ideas are the stripes that we painted on the nursery walls. After lots of visits to online photo galleries, I made the decision to go with a nursery color scheme using citrus colors accented by pops of colorful birds.


The first order of business in this DIY project was to paint the bold horizontal stripes on all four walls that serve to unite the color combinations throughout the room.


There is no doubt that the bright shades of yellow and aqua blue are the "stars" of the layout.



Even though the accents in the project are very bright, we actually included quite a lot of neutral space that features antique white or cream.
See more here
In addition to the striped wall painting technique, I also sprayed horizontal stripes on the closet doors which are covered with mirrors using a fogged glass spray paint. This was an easy and inexpensive way to give 1980's style mirrored closet doors a modern makeover.
The neutral curtains that flank the sides of the closet add texture and frame the space.
I didn't want the decor in the room to scream "
Baby Boy Nursery
" (which is what the room really happens to be) and decided on a gender neutral nursery that is something my son can easily grow into.
Many of the nursery's accessories including the terrific bird mobile above the crib were purchased through Etsy and complement our citrus color nursery ideas.
The cheerful, orange throw rug was handmade using recycled T-shirts and was also purchased through an Etsy store. Being made of cotton, it is easy to care for and machine washable.
The decorative throw pillows that I arranged on the twin bed can easily be changed if need be whenever the baby is ready to transition into a "big boy" bed.
The bird pictures that are decorating the space above the baby's dresser can also easily be changed out for a more mature look as our son grows older. The ability to make an easy transition from infancy to toddler age and beyond was key for me with the planning of this room.
From the webmaster:
Your
nursery colors
make me think of fresh picked fruit, especially lemons and oranges! I love how the aqua and yellow complement each other in your painted stripes. Thanks so much for taking sharing pictures of this cheerful room with
Unique Baby Gear Ideas
on a fun nursery tour.