A Budget Nursery with Class and Sass
by Gwynne
(Gastonia, NC)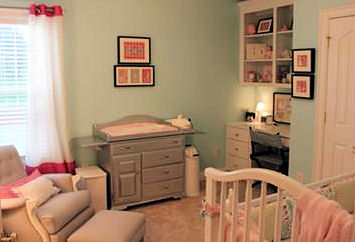 Aqua Blue and Pink Baby Girl Nursery Room
Sheer determination and a lot of creative ideas decorated my baby's budget nursery with class and sass! When I was only 20 weeks pregnant, I found the baby bedding fabric that I wanted online, had it custom designed it and ordered it.




I was really looking forward to the nursery decorating process and started to get thrifty and crafty!




SEE MORE HERE
Here are a few of my budget minded projects that gave our baby's
aqua nursery ideas
their sassy yet classy personality.
My plans were to simply spray paint a dining room buffet table silver that I found at Habitat for Humanity's Restore until I learned that the silver might rub off. This was unacceptable so I primed it and spray painted it silver, used a clear varnish to seal it and then added new hardware. Even with the additional supplies, it was a very inexpensive process and I could not be more pleased!
For art work, I cut out our baby girl's monogram from scrapbook paper and framed it in cheap, black Ikea frames. Voila! Instant artwork!
The leftover scrapbook paper was used as a background for some vintage paper dolls that I had kept since I was little and framed those as well as all of the baby shower cards I received to make a collage; MORE (virtually FREE) instant artwork to match our
Unique Baby Gear Ideas
!
I lined the built-in bookshelf with fabric by covering poster board with the fabric and simply placing it behind the shelves. This was such a super easy way to add dimension and personality to the bookshelf without having to bring out the paint and brushes.
Furnishing a Budget Nursery Theme for a Baby Girl
The nursery's one chair is an upholstered rocker that I found in sad, rough condition on Craigslist. After choosing a neutral gray upholstery fabric and turquoise piping I had it professionally reupholstered which was so much cheaper than a store bought chair. Our budget got another boost when we inherited the baby's crib from my cousin.
When custom baby bedding is worth it.
Custom made bedding is more expensive but I am so pleased with it that it was well worth it. I love the mixture of pink and blue shades of that are in the fabric and it laid the groundwork for a very feminine nursery with an aqua background that is soft and feminine but not too girly.
Even though I have the crib set custom made and I feel that I splurged on the bedding I still cut corners by only ordering pieces that I truly needed. Before I submitted my order, I decided that I just needed the crib bumper pad and skirt. Even more money was saved by designing it using a basic white sheet as fabric rather than getting custom matching ones. I found the nursery curtains at Marshall's, the curtain Rod and accent pillow at TJ Maxx at a discount so I felt the custom bedding was worth the money.
Good, Inexpensive Nursery Wall Paint
Choosing the best paint color for the walls of our baby girl's room was also made easy using the crib set as a guide. I just had Benjamin Moore's "Forget Me Not" paint color matched at Lowe's home store.
Between the inexpensive artwork and nursery furniture our baby's girl's room came together on a nice budget! Overall, I am super pleased with the end result!
My advice for parents taking the DIY approach in decorating a budget nursery would be to start early and enjoy the process! I'm so glad that I started at 20 weeks when we found out we were having a girl! I was able to take my time, enjoy the process and let the room evolve without feeling rushed like I was running out of time.
Also, starting earlier when my bump was less cumbersome allowed me to be more creative in more physically demanding ways.
I hope that these pictures of a baby's nursery decorated on a very low budget demonstrate what's possible when you take your time and don't mind cutting a few corners. If you like our budget nursery design I hope that I have included enough information so that you can duplicate it with your own touches, of course.