Pink and Aqua DIY Nursery
by Jan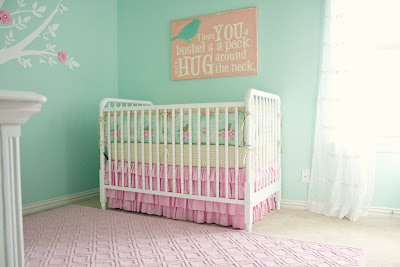 Mom's pink and aqua DIY nursery ideas plus help from loving family members = a baby girl's dream room!
This pink and aqua DIY nursery design is a perfect example of the saying "many hands make light work"; practically everyone in the family had a hand in decorating Baby Harper's room.





Dad saved lots of money by painting the tree mural on the nursery wall rather than paying $200 for custom tree wall decals for the nursery.
Saving cash is certainly nice but the real beauty of painting your own artwork is that it's one-of-a-kind..that and the bragging rights, of course.
Go Here to See More
Mom had visions of a girly, vintage nursery that featured a few modern touches. Her baby girl's bedding set, sewed by her grandmother, fulfilled her wish as far as the crib set was concerned. The set includes an aqua and pink rose print fabric accented by fabric with a crisp, geometric pattern that would be perfect for a shabby chic nursery or an aqua nursery with a focus on floral patterns.
Ruffles, nursery bedding made by a loving grandmother and a white Jenny Lind crib spells perfection.
Why does everyone seem to have a family member that is a genius with a sewing pattern but me?
I hope that you have enjoyed the Souders'
baby girl nursery pictures
and that you will leave a comment to vote for Harper's nursery to win our contest. It would also be nice if you would jump over to
The Souders Saga
to tell them that you saw their nursery reveal on
Unique Baby Gear Ideas
how much you loved their
baby girl's nursery
.