Heavenly Angel Baby Bedding and Nursery Theme Decor
On this page we have many ideas for the nursery surrounding the angel baby bedding that you chose for your little one's crib or cradle in Heavenly style. Consider this guide the first step towards designing a dream nursery for your baby girl or boy. When dreaming of decorating ideas for an angel nursery theme, white gauzy fabrics, decorative gold accents like shiny silver or gold stars, musical instruments and a pale blue with fluffy white clouds come to mind.



Girl Nursery Bedding Sets


Pictures of baby angels strumming their gold harps taking care not to dent their halos or tear their dainty wings during their angelic musical sessions in the clouds provides a lovely background for a cute as well as spiritual nursery design.



A rustic log cabin nursery can be more feminine when the angel wings that were used as a photo prop are included in the nursery wall decorations.


We would be hard-pressed to think of a more peaceful or inspirational theme for any nursery. You may find that an angel nursery theme and coordinating decor has a way of eliminating the stress of the day and I highly recommend it for beauty as well as the mood it sets in the room.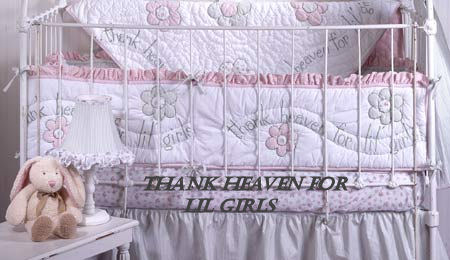 And just so you know, angel nursery bedding is not only used in decorating nurseries for baby girls! There are some very cute angel baby bedding sets in blue that will be perfect in your baby boy's nursery!


Have a custom vinyl wall sticker made of your favorite guardian angel quote, Bible verse or saying.
When I was born my grandmother made a soft flannel baby gown and a homemade set of angel baby bedding as a baptism gift
Alongside the little angel pictures on the fabric, there were inspirational words printed in yellow gold. The walls in the nursery were painted a pale blue and the nursery carpet was blue as well. The crib was painted white which coordinated nicely with the white, blue and gold color scheme in the angel nursery bedding.


If you are looking for decorations for your little angel's nursery theme, this nursery design would work with a few adjustments. A baby nursery in white, blue or gold metallic would be positively angelic!


My folks must have had illusions of my being a much sweeter baby than I was because it seemed that every birthday and special occasion that rolled around, I received some kind of angel theme present. When I was a toddler, I got a homemade, floor length night gown as one of my special presents from Santa Claus. The Angel print fabric was so cute and sweet! I can remember that I imagined my gown as being similar to the robes that the little angels in the pictures were wearing.
Later, I found some pieces of the angel theme fabric that was used to sew my gown and asked my grandmother if she could make my baby doll a patchwork quilt using some of the flannel scraps. She took the pieces that were left and along with some coordinating solid color squares made my baby dolls a pretty set of angel baby bedding that matched the crib. I used the comforter from my vintage (I refuse to call it an antique!) angel baby bedding set to decorate my own baby's crib last Christmas.
The white background of the flannel is now more of a cream color than snowy white, but the little angels are still smiling and playing in the Heavenly choir just as they did when I was a little girl.
Thanks for reading and for visiting Unique Baby Gear Ideas.
SHARE IDEAS - PICTURES of ANGEL THEME NURSERY DECOR
Do you have a great set of baby bedding or a picture of a nursery that you decorated with angels? Share it!
ANGEL THEME NURSERY PICTURES, IDEAS and SUGGESTIONS from our FRIENDS
Click below to see contributions from other visitors to this page...

Angel Baby Nursery Theme for a Miracle Baby

Our baby girl is truly a miracle baby and a gift that we never expected to receive after having lost a baby to miscarriage five years ago. Her arrival …

Roman's Angel Nursery Theme Not rated yet
Roman's angel nursery theme has a very special meaning to me and my husband after trying for 4 years to have a baby. Let it suffice to say that we spent …