Angel Baby Nursery Theme for a Miracle Baby
by Katharina
Our baby girl is truly a miracle baby and a gift that we never expected to receive after having lost a baby to miscarriage five years ago. Her arrival was such a blessing but also a surprise which caught us without having a design for her nursery in place.


We ultimately decided on a combination theme that was lighthearted as well as a thoughtful memorial to the little one that we lost.



The design that I decided on is a combination of butterflies and cherubic angels.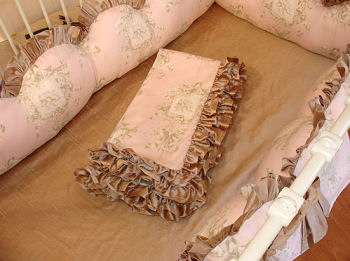 Go here to see more
cherubic items to use in your nursery project.
It's a good fit because it holds two things that are dear to me as evidenced by all the decorative items that I've collected over the years that I plan to put on display.
These items were angels or cherubs and butterflies. I knew that whatever theme I chose, it would have to be one that was befitting of a very special "miracle baby". This combination of two very different styles of decor may seem to others an unlikely match, but once the process of decorating was underway we found that an angel and butterfly nursery decor worked very well together.
Taking the first step in blending the butterfly angel baby nursery design involved choosing a color scheme that would be appropriate and workable as a background for the decorations that I planned to use. I ended up choosing a palette of pastels to use for the colors, most of which were shades during the Victorian era. Soon a rose, lavender and lilac baby girl's nursery was beginning to take shape. My sweet, miracle baby was born 5 weeks prematurely so I knew very early on that I would be decorating the baby's room using "girly" colors and with the nursery theme that I had in mind, that was a nice perk.
Along with the butterflies and angels that I had collected, I looked for decorative pieces that fit into a vintage or Victorian angel nursery theme as well. Items made of velvet fabrics with handmade lace were at the top of my shopping list. If you are thinking of using this theme for your own baby girl, take my advice and don't forget a
vintage Guardian Angel picture
and a small rocking chair with the porcelain Victorian doll to place in the corner.
We are so happy to share the end result of our efforts with others that visit
Unique Baby Gear Ideas
who may also have a child in Heaven. We consider our tranquil angel baby nursery to be a place where our precious daughter is surrounded by gossamer wings from both Heaven and earth.