Guardian Angel Pictures, Wall Art and Decor for a Baby Nursery Wall
The baby's nursery wall is the perfect place for guardian angel pictures, angel paintings and décor. Their presence in a room creates a peaceful atmosphere that parents and children find to be calming and restful. The faith that unseen Heavenly creatures surround sleeping babies throughout the night gives comfort to moms and dads.

As parents, we do our very best to look after our kids and provide them with a safe and happy place to live and grow. Along with the physical comforts, we carefully teach them and show them the way to conduct their lives based on a solid foundation with the heartfelt belief that there are angels watching over us in both good times and bad. Perhaps this is the reason that classic guardian angel pictures are so popular in kids' rooms.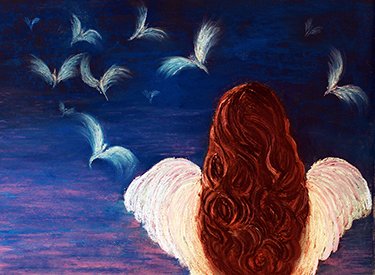 Go here to see more.
There are many fine art prints of angels depicting them as protection for babies in their cribs, children as they lie sleeping in their beds or while playing.


How many times were we told when we were kids being tucked into bed, "Your guardian angel will watch over you until morning". We take comfort in these reminders that we are not alone on our journeys through life. When the night is dark and there are noises that we don't understand, it helps to believe that the fluttering that you hear might just be your own personal angel's wings fluttering as she gives you a hug.
If you want to make a gallery of guardian angel pictures, posters or art prints there are plenty to choose from.
My favorite of the antique style guardian angel art prints is the one with the Guardian angel prayer printed to the side. Along with the prayer there is a picture of a beautiful blonde angel watching over two children crossing a bridge that could use some repair. There are some beautiful German variations of this theme, one of which shows the children on the edge of a cliff with their angel in the background. You could cover the entire wall with a gallery of framed German prints alone.
Guardian angel drawings in charcoal or pen and ink don't have the same drama or jewel tone colors. However, drawings of guardian angels are just as remarkable and awe inspiring as the antique prints. Plus, they look fabulous in the den or dining room without creating any problems with color matching. Even the sepia tone drawings blend with most any color. Another option for areas in the home where color coordination might be difficult would be black and white photographs. There are some stunning photos of guardian angel statues in black and white where the lighting is a work of art in itself.
The message here is that if you would like the occasional visual reassurance that angels are among us, there are guardian angel pictures to fit any style of decor.
Return to find more angel nursery wall décor on Unique Baby Gear Ideas with decorating tips to make your surroundings more angelic with original DIY angel paintings and art.