Baby Scarlett's Vintage Teacup Nursery Theme
by Jan
The inspiration for Baby Scarlett's vintage teacup nursery theme was an image featuring vintage teacups stacked in a topsy turvy fashion that was spotted not long after decorating an older child's precious owl theme nursery which has also been featured on this site.



When she saw the picture of the cups, she knew that should she have another daughter that she would decorate her room based on this picture.




The picture inspired some adorable crafts ideas and DIY projects and we have a tutorial for a stacked teacup table lamp made by Mom that others will want to make themselves. Her step-by-step instructions make this DIY project so easy that anyone should be able to do it even if they have never dealt with electrical wiring before.
The design of the vintage stacked teacup table lamp was based on an Anthropologie lamp. In my opinion, their homemade version is SO much nicer than Anthropologie's. The glass canning jar filled with pink, yellow and white long stem roses located to the side of the table lamp offers a contrast in old-fashioned elegance and earthiness blending memories of tea parties with a quick trip to the garden.
You can find the vintage teacup lamp tutorial at the theellwoodavenuechronicles.blogspot.com/2012/03/vintage-teacup-lamp-tutorial.html" including step by step instructions on The Ellwood Avenue Chronicles blog. Before you get started, you should have a stack of cups and saucers ready to go and a few tools like a drill, etc. But even if you have to spend a few days hitting the flea markets and antique stores and borrow tools from your neighbors; it's so worth it.
Find the perfect tea party invitations for your baby shower or event.
While cups and saucers surround this baby girl; her room's color scheme is also remarkable. It consists of soft shades of pink, blue and white with touches of yellow added via the butterflies surrounding the letters over Scarlett's crib and the fresh floral arrangement.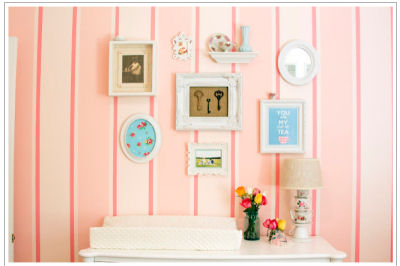 Tea Party Theme Decorating Ideas and Decorations to Make Yourself
A collection of vintage glassware, keys, floating shelves, frames and mirrors come together to form an enchanting arrangement over Scarlett's changing table.
The framed Cup of Tea art print was a DIY project created using the Photoshop image editing program.
Scarlett's crib skirt and the personalized blanket is from the Harper collection by Pottery Barn Kids. However, Blair loves to mix and match (as she did in Hadley's nursery) so to make the ensemble her own, she added a Carter's brand fitted crib sheet and a crib bumper by Serena and Lily.
She chose a floral print fabric for the foot stool's upholstery, the crib pillow, and rocking chair cushion to reflect the vintage floral designs on many of the teacups.
Blair made the curtains using 100% cotton rose print fabric that is a reflection of her love for all things vintage.
I hope that you all enjoyed the tour of Scarlett's Vintage Teacup Nursery Theme and that you found some
Unique Baby Gear Ideas
that you can use in your nursery decorating project.
To see more of Hadley and Scarlett's pretty baby girl nursery pictures and get shopping resources and instructions for many of the decorations used to decorate this room please visit The Ellwood Avenue Chronicles blog.