Delightful Vintage Nursery for $200
by Jennifer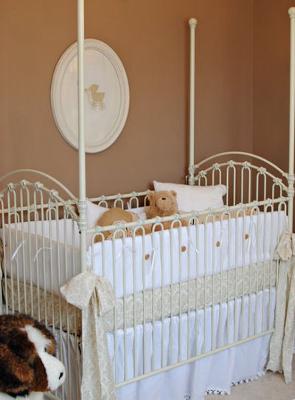 Tan and White Nursery Crib Linens in Damask Pattern
What would you say if I told you that we decorated this delightful vintage nursery for $200? My goal was to decorate the baby's nursery using furniture that we already had to save some money and then accessorize.

SEE MORE HERE
My original plans for the baby's crib included making a linen crib skirt and a linen bumper to use with white crib sheets. But then I found a twin sheet set in a beautiful damask pattern for only $6.99 at Kohls with enough fabric to make the crib sheet, pillows, bows on the bumper pad, ruffles on the lampshade and still have fabric left over. After I found it, I decided to just use the bumper and skirt I had made for my first baby girl. I dressed it down a little by removing the pink bows and buttons and replacing them with damask bows and wooden buttons.
SEE MORE HERE
I removed the pink bird silhouette that I had painted for the oval frame and replaced it with a vintage baby carriage design that I cut out using my Silhouette Machine.
Page 1
,
Page 2
,
Page 3
,
Page 4
,
Page 5
,
Page 6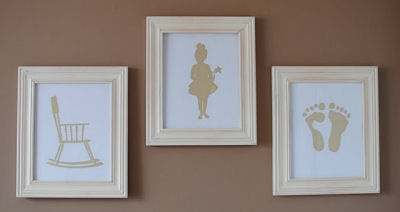 We hung an arrangement of three silhouettes in tan that I cut out using my Silhouette machine including a baby's footprints, a vintage nursery rocking chair and a precious ballerina holding a fairy wand. After I cut them out I mounted them on white cardstock with double stick tape and popped them in the frames.
The price of the frames was $12.99 at Target and they were the only other items we had to buy for the room.
That's about it for the tour of the nursery. I believe that I mentioned earlier post that we decorated this delightful
vintage baby nursery
for $200. Well... I lied!
We actually decorated our vintage nursery for just
over
$200. In my earlier calculations I forgot to include the price of the Euro pillows and the antique baby bonnet. I'll just put the blame for that minor omission on pregnancy brain.
I am happy with the results as well as pleased that the space is functional as a nursery for our munchkin and that we can continue to use it as a guest room.
From the webmaster:
Jennifer, I feel confident in saying that there are designer nurseries where thousands of dollars are spent that don't have the style of your baby's lovely room. The tutorial for the ruffled lamp shade is going in my "to do" file and there is now a request for a Silhouette machine on my birthday wishlist.
Thanks so much for sharing your amazing
baby nursery ideas
and your
baby girl nursery pictures
with us and I look forward to seeing more of your work on
Dear Lillie
!
All the best,
Jan