One Beautiful Vintage Baby Boy's Nursery Room
by Melissa
(Chicago, Il, USA)
A beautiful baby boy nursery room decorated in a vintage cars theme and sea green and white color scheme
When I walk into our son's room I can't help but think "This is one beautiful vintage baby boy's nursery". there is such a feeling of calm and peaceful energy in the space. I believe that if Mom and Dad are feeling calm and relaxed our baby will relax and be at his best as well.


I feel that the atmosphere of tranquility was achieved through making the right theme and color choices.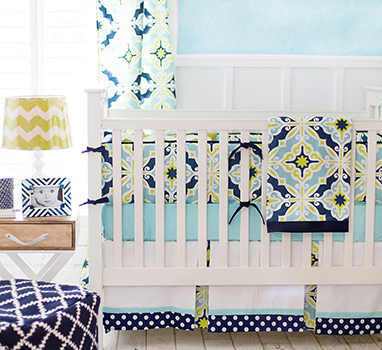 Go here to see more.
excellent design ideas for a baby boy's room in navy blue, white and lime green featuring a unique blend of chevron and other patterns.
We went with a
vintage baby boy's nursery room theme
that has some vintage cars thrown in to add a bit of masculinity. The sea green color included in the curtains and crib bedding set add to the tranquil, low stimulus effect of the space.
We chose a tree wall decal that had a windblown look with no leaves as it would be in winter surrounded by flying birds. Again, we made our decision based on the peaceful feeling that the mural conveys. The stickers were inexpensive and were assembled and applied to the wall by my husband.
How to Repaint and Repurpose Old Furniture for a Baby's Nursery
We repainted an old nightstand and added new drawer pulls and hardware to use as a side table.
Smart Shopping for Decorations
All of the decorations in our
baby boy's nursery
came from bargain outlets.
Practical Choices in Floor Covering and Nursery Furniture
We chose a stain resistant carpet and a recliner with stain resistant upholstery that come with replacement guarantees. These features were important to us since, as everyone knows, during the first few years they will most likely be spit up and pooped on more than a few times.
I hope that visitors to
Unique Baby Gear Ideas
have enjoyed the tour through our beautiful baby boy's nursery room and that our experience will help those who want to create an oasis of peace achieve their goals.