Baby Owen's Unique Vintage Nursery
by Jan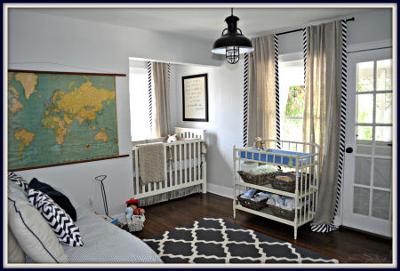 Baby Owen's nursery was decorated with special family items and antiques that give it a vintage feel as well as modern pieces.
Baby Owen's unique vintage nursery is "different" in that it featurs more than one theme. Actually, unless you are always on the lookout for nursery themes (like me) you probably wouldn't notice a one at all.


The average person would simply see a beautifully decorated nursery for a baby boy that includes many interesting details and Emily, Owen's mom, is going to tell us how it was designed.



There are some very interesting DIY baby nursery décor ideas in this baby boy's room that you will want to see!
Go here to see more
Emily says:
Owen's crib set, the chevron pillows and the bed skirt on the twin bed were all made by my wonderful mother. Her talent really gave the space a one-of-a-kind look. For example, the nursery curtains are Ikea and mom added the chevron border made from the same fabric used for the accent pillows.
We were unsure about having the twin size bed in the nursery in the beginning but now I am really glad we made the decision to include it. It comes in handy as a guest bed when we have company and gives the parent that isn't rocking the baby a comfortable place to lounge.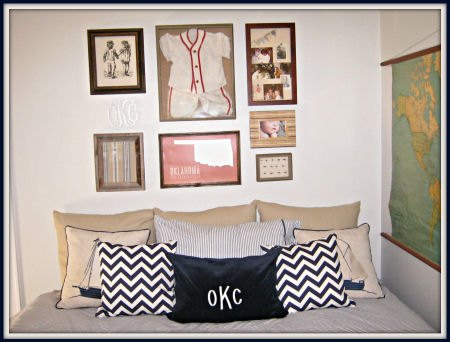 Vintage Nursery Ideas
We included my father's baseball jersey (
vintage baseball nursery
theme ideas here!), an old world map (
Old World Map Nursery Theme
ideas here), fishing flies in remembrance of his Pops, family photos and antiques we received as gifts or that we found ourselves as wall decorations.
A tutorial that we found online was followed to convert an Ikea chair into a nursery rocker glider. The chair is comfortable and the conversion saved a lot of money!
We found the Jenny Lind style changing table at a garage sale and spray painted it.
The changing table is the baby's favorite spot in the room at the moment. I'm so happy that we decided to put it in front of the nursery window because he loves to look outside and he enjoys the sunshine. If he is crying or fussy, a visit to the changing area and a little conversation is sure to cheer him up.
Owen's dad did so much work on our baby boy's nursery room. He:
removed old carpet
refinished the hardwood floors
built a closet
painted the nursery walls and woodwork
installed the ceiling light
built the shelves (inspired by Restoration Hardware)
put together all of the furniture
Owen's dad is a hardworking man, talented man!
Vintage toys, a lantern and Owen's name on a rustic, wooden bunting make a lovely display on the wall shelves that his dad made.
The artwork over the crib features a favorite Bible verse.
The embroidered piece was inspired by a tutorial that I found online.
Since the baby's nursery has been completed, we have spent many happy hours there and I'm sure that there are many, many more to come.
I hope that you have enjoyed the tour of our baby boy's nursery here on
Unique Baby Gear Ideas
and that if you have any questions or would like to see a list of our shopping resources, that you will stop by my blog,
Dear Baby Owen
and take a look around.