Naomi's Vintage Nursery
by Abra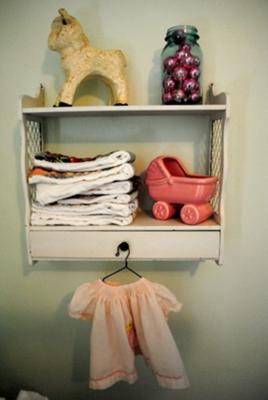 Naomi's Shelf Filled with Vintage Gifts and Garage Sale Treasures
As I began to describe Naomi's vintage nursery I heard the phrase "meaningful beauty" and I thought, that's it, that's what I want my home and my baby girl's nursery to be.

About a year ago we started a do-it-yourself makeover of the room that was to become Naomi's by tearing out a drop-ceiling, scraping away old plaster and putting up new drywall and installing a new ceiling. We also installed new wiring, new windows, new floor covering, hung a new door and applied light mint green color wall paint.

At the time we were doing the work, we didn't know this was going to be a baby's room as I was painting it I had hopes that one day a little baby would occupy it. And now, a year later, we will soon be welcoming our baby girl.

NAOMI'S
Vintage Nursery Details


In the first vintage nursery picture you see a wall shelf that I decorated with a vintage baby dress that I received as a gift, garage sale finds and burp cloths that I made myself! The mason jar next to the little lamb on the top shelf is filled with pink vintage Christmas ornaments.

Picture Number 2.

There is a picture of yours truly when I was pregnant inside a picture frame that my mother-in-law gave me and the pretty pink cup and saucer was also a gift.

Picture Number 3.

I made the pom-poms as decorations for a baby shower and I am now using them as nursery decorations above the crib.


Picture Number 4.

This is my wall of picture frames that I plan to expand as my collection grows.

When decorating Naomi's vintage nursery I focused on making it really personal and unique with a vintage and eclectic feel but I had to manage it on a very tight budget.

I think that I mentioned in my blog, When Baby Sleeps, that I spent around $65 total, because I used so many items that I already had.

I used meaningful, beautiful things like a pink plate that used to be my mom's and came from Germany (our family's heritage is German) to hang on the wall. My husband's baby plate is also displayed and his desk when he was child is being used as the side table. I just did what felt right a piece at a time developing my own vintage decorating style as I went (that's just how I roll!).

I'm really happy that so much of the room was decorated with memorable pieces that have special meaning to me. I'm so not into girl nursery themes or matching decor; I really didn't try to stick with a set color scheme.

SPLURGES AND PURCHASES

My one splurge was the wallpaper that I hung behind the crib that cost arround $40. My sister-in-law found th shabby chic chandelier at Goodwill for $10 and I picked up a few more vintage items from garage sales. Everything else was either already on site or given to me as a gift.

Of course, I love decorating, so decorating Naomi's vintage nursery was just part of the experience and preparation for her arrival. I realize that in no way is a fully decorated nursery necessary. The most important thing is that we are welcoming our little one with love and I just can't wait to do that.

From the webmaster:

Abra, I can't tell you how long I spent looking at the lovely vintage pieces that you used to create this feast of color and sentiment. I had a wonderful time reading your blog to learn the meaning behind so many of the items. You truly have a talent for vintage decor and I'm sure that other moms will appreciate your
Unique Baby Gear Ideas just as much as I do!