Lightweight Umbrella Strollers That Are Cute and Inexpensive
We buy Umbrella strollers to make the quick jaunt to the store with baby on board a breeze! Well...at least more of a breeze than it would be with a standard stroller or a jogging stroller. Got twins? A double stroller is what you need! A light weight double stroller may be the best lightweight stroller for you and will make travel so much more pleasant for a weary mom!




While single and double umbrella strollers are fabulous, we should not expect complete strolling perfection. For example, these inexpensive, lightweight strollers are for walking and not running. The tires will simply not work well for anything more than a moderate trot. And if you're taking baby to the beach, the wheels are not large enough to handle deep sand very well no matter how slowly you travel. The best umbrella stroller on earth won't work under these conditions!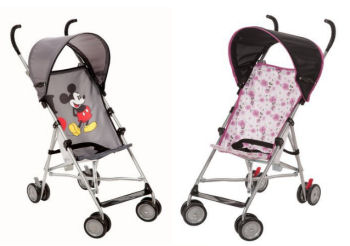 Go Here to See More
Be aware that you would have to carry most baby toys or accessories as these strollers aren't built with storage in mind. You may need a better canopy to protect your baby from the sun, too. Even the best umbrella stroller on the market seems to be lacking in at least one of these areas.
A cheap price is one of the characteristics that make these strollers so attractive to many budget-strapped parents.


In fact, moms that visit us say that this model by Cosco is the best umbrella stroller for the money. The price is currently stated at less than $20 and the shipping weight at only 6.4 pounds.
The Cosco would be an excellent choice for a travel stroller, easy to maneuver through the airport and get on and off the airplane.
Parents with more than one child have double the need for an inexpensive, lightweight stroller.
Most are willing to accept the shortcomings of umbrella strollers and make sacrifices in order to scale down the weight and the price.
In order to compete with other styles of strollers on the market manufacturers are loading our strollers with luxury features such as more storage, beverage holders and handlebar extensions so that tall people can enjoy the complete strolling experience in comfort. Many newer models are appropriate for newborns as they now have fully reclining seats. Strollers that do not recline should not be used with infants under a certain age. The reclining feature is absolutely necessary for use with a baby who can't sit up without support. Another tip, please note that if you have need of a twin (double or duallie),triple or a quad stroller, umbrella strollers may not be the best option for you. By all means go to the baby outlet store and try them out, you can't tell much about performance from pictures or photos.
When shopping for lightweight strollers, many proud parents shop for the cheapest strollers they can find. These moms and dads think that an almost disposable item at the lowest price they can find is the best deal. No Peg Perego Pliko P3s or Combi stroller for these bargain hunters! Even some of the least expensive models for 2007 are being manufactured in the same hot colors that Hollywood Movie Stars, Celebrity Moms and Rock Stars are choosing for their kids.
We are seeing more high fashion colors like turquoise blue, watermelon pink, salsa reds and designer inspired fabric patterns in discount stores these days! Many with coordinating diaper bags! And they are for the most part very cheap! Yes, there are many possibilities in this price range for the most techno savvy parent. And if retail price is your deal breaker, here's my recommendation for the best stroller in this price range. At prices between $30 and $35 I think Kolcraft has the perfect stroller for these parents:


The Kolcraft Jeep Wrangler All-Weather - Sky Umbrella Stroller XLT(they also offer a double stroller The Kolcraft Jeep Wrangler All-Weather Twin Sport Umbrella Stroller)
This stroller weighs an acceptable 12 pounds
Easy one hand closure
clean with a damp cloth
Two side cargo bags
Adjustable sunshade

Drawbacks: This is not a stroller for an all day excursion. It does not have an underseat storage area or a bar to be used for attaching stroller toys or accessories. It would also be nice if wheels felt a little more substantial and you will probably go through more than one. I don't know anyone who really knows how to fix bent frames and broken connectors after all. It might actually be better to read
stroller reviews
and opinions on forums, find a well constructed, top-rated stroller and buy it used on Ebay or at a yard sale. If shopping for a used stroller, check recalls and be aware of any existing problems before making a purchase.
For shoppers willing to pay more for a longer lasting umbrella stroller I suggest:

Peg Perego Pliko P3 MT Classico - Metallica Umbrella Stroller

Just under my 16 lb. limit to be considered lightweight at 15.8 pounds
strolls well on rough dirt paths and mall floors
fully reclining seat suitable for infant
Can use the infant seat from Peg Perego travel system
Easily cleaned
Well padded seat
Ample storage beyond compare

Drawbacks: The lowest price I found was approximately $230 plus shipping. The assembly of this stroller requires that you use two hands to fold it. If you have problems juggling more than one child at a time, this may be a little bit of a problem until you get the process down. It's also been reported on a few of the stroller blogs that I read that the cupholder could be a lot less flimsy.
Most of your common names in strollers have at least one model they call a lightweight stroller or umbrella stroller.

I don't want to be faced with having to go out and get a new umbrella stroller every season. On the other hand...I can't see paying upwards of $200 for a lightweight stroller with limited features! I hate to get hung with any particular piece of baby gear that is so pricey that I can't get something new when the trends change in fabrics or design. By the time my baby became a toddler, I'd already swapped strollers three times! For my money, I'd split the difference and go with:

The Maclaren Triumph
Weighs 12 lbs.
5 point harness
Sturdy feel
sunshade
one finger push! REALLY the wheels roll that smoothly
Of the umbrella strollers I've tried, this is the one that I rate the best stroller in the lightweight stroller category. There are plenty of Maclaren fans out there and they all can't be wrong. Ok, to be fair here are the few drawbacks:
Storage could be better. Cup holders must be purchased separately. How chinchy!
Oh well, the positives outweigh the negatives on this little jewel!

Here are some top rated umbrella strollers in the lightweight stroller category from recent years past that you may want to try!


FOR MORE INFORMATION ON lightweight baby strollers please visit our homepage to find more information on the best umbrella strollers and Unique Baby Gear Ideas.
VOICE YOUR OPINION ON THE BEST UMBRELLA STROLLERS
Give other moms a heads up by rating your experience with any brand of lightweight umbrella stroller.
MODERN MOM STROLLER REVIEWS
Click below to see contributions from other visitors to this page...

Babyjogger City Mini Stroller Is Mini but MIGHTY

Babyjogger fans have not been disappointed by the 4 wheeled Babyjogger City Mini stroller. Retail price for the stroller is somewhere around $259. …