Bugaboo Stroller - Gecko Review
You might think that this Bugaboo Strollercalled the Gecko is the small fry of this celebrity mom favorite! Maybe, but the small fry of this line is no midget! And it's just as fresh and froggy as can be and a luxury baby stroller to boot!

Keep in mind while reading this review, while I'm a huge fan of this baby stroller, this is not a jogging stroller and therefore should not be compared to any of that genre.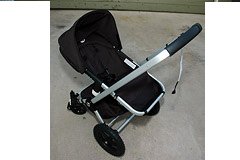 MAKE A QUICK COMPARISON TO THE CAMELEON
It's perhaps the best umbrella stroller ever! The stroller celebrity moms choose for their babies! Celebrities seem to be enjoying the Bugaboo stroller lines and all of its cool features. This may be the reason some have dubbed it an extravagant pram for posers! And a luxury pram it is, but while the hip and the posh may prefer it, that does not meant that you won't love it as well! This stroller is certainly not cheap. It's baby stroller luxury and it does have a daunting price. It may indeed be your most costly or expensive purchase in the baby gear department, and you will want to get your use out of it.
This is the stroller that so many celebrity moms want for their babies! Celebrities have been enchanted by the Bugaboo stroller lines and all of its cool features from day #1! It's certainly a high end stroller, but regular moms give it high ratings and love it as well. It's a fact that this stroller is not cheap and may be your most expensive purchase in the baby gear department you will ever make but some reviews maintain that you will get your money's worth and say they would put the Bugaboo up against any other for sale on the market! Those of us with skimpy bank accounts should probably shop for used strollers on Ebay or on Craigslit.
This handy little baby stroller can be considered lightweight because...well it's lightweight. It only weighs 18 pounds. That's ultralight! And several pounds lighter than theBugaboo Cameleon or Bugaboo Chameleon, whichever way you spell it!
There are only a couple things the Cameleon offers that this little powerhouse does not
The Bugaboo Cameleon offers an extra 6 inches of handlebar extension for taller parents
The Bugaboo Cameleon has a slightly larger storage capacity
The Bugaboo Cameleon offers separate use of the seat
The Bugaboo Cameleon offers suspension that is adjustable
It folds compactly and gets the job done for about $200 less in price give or take a few dollars.
It's up to you whether you need the lighter, smaller stroller or the bigger one! You can decide once you know how the baby stroller will be used the most! If you happen to live in an upper story apartment with many flights of stairs, you will need the lighter one of course! Try them all to see which is the best, most complete stroller for you.
This company tries very hard to think of everything a parent might need when strolling their baby. Take a look at some of the other accessories that the folks at Bugaboo Stroller have come up with! They just might have something to give your friends for a unique baby shower gift!