Learn More About Baby Strollers
Reading reviews to find the best baby strollers is as important to a new mom as the right purse and heels in her pre-maternity days. Every mother-to-be dreams of proudly strolling her infant around town for everyone to admire. And did you notice that I said "STROLLERS" in the plural rather than singluar?



Visitors Shopping for Strollers Also Enjoyed these Pages:
TOP RATED! Cheap Umbrella Strollers

Best Double Umbrella Baby Strollers Preferred by Moms

NEW! Jogging Strollers That's because most mothers need to find the best lightweight baby stroller, the best jogging stroller if she happens to be a jogger and if she's blessed with twins or even triplets? Well, that means she will be shopping for double or triple strollers!


Which Type is Better?
Every mom needs to buy a lightweight stroller. For many, finding the best umbrella stroller marks the end of their research. Mothers with special needs will be spending more time reading reviews. As an example, joggers are very particular about their jogging strollers and mothers of multiples have to compromise and find a comfortable balance between features and expensive prices.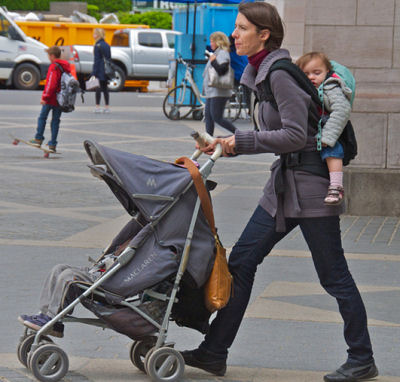 Find the Perfect Baby Strollers
Once you have a few brands and models on your checklist, pay a visit to a baby gear store and try a few out. Test them to see how well they are made and how well they perform under the conditions that you will be operating in. To give you an example, if you will be using the stroller for shopping at the mall you might want to run some tests to see how well your choice maneuvers in tight spots.
Another way to find the best stroller for your needs is to ask moms who actually own and use the kind of stroller you are shopping for. Quiz your friends who stroll their babies or ask your fellow joggers which jogging stroller rocks their world. As them if you can borrow their wheels for awhile and see if you share their opinions.
If you are the first in your group to give birth, visit the park, the hiking trails or wherever new moms gather to see what's popular. Most mothers love to talk about baby stuff so strike up a conversation and discuss the pros and cons. Get a few personal opinions, take the information and compare it to what consumer reports has to say. Reading consumer reports and baby stroller reviews will only get you so far. After a while all of the specifications and age and weight limits will start to run together and run you crazy so you might want to buy a notebook and keep a checklist of "must haves".
Storage and Stroller Accessories
Consider how much storage will you need for your baby's necessities. Jogging moms find it necessary to pack large diaper bags, lots of strollers toys and buy a stroller sun shade while moms using the baby stroller to take quick trips to the store only need a few diapers and some baby wipes. Your personal habits will tell you a lot about which stroller is best for you.
Baby Strollers That Fit Your Needs
Of course if you have twins you will need a double stroller and if you have triplets, a triple stroller is a must. It goes without saying that what you buy has to fit your baby's needs. But you will also need to be sure that the baby stroller is comfortable for mom and dad, too. If the handles are too low, you may find yourself with hurting shoulders and a backache. If you are tall, look for models that are a good fit for tall parents with handlebar extensions.
AFFORDABLE CHEAP STROLLERS
Used strollers are usually the only kind of "cheap" stroller that are worth your money. However, some baby strollers are certainly less expensive than others.
Some of the most affordable brands that are highly rated are:
Graco
Kolcraft (Jeep)
Chicco
Baby Trend
These are considered by many to be low end brands with many of the same features seen in high end strollers.
MID-RANGE STROLLERS

These strollers have a few more features and consistently get high ratings on consumer review sites for a reasonable price.
Combi
Peg Perego
Ingelsina
MacClaren
Eddie Bauer
LUXURY STROLLERS
Rarely seen in discount stores, these strollers are considered haute couture and are often seen in pictures of celebrity moms and their kids.
IMPORTANT STUFF
ALWAYS be sure the stroller is right for your child's age and weight and learn to operate the stroller properly according to the owner's manual. You should also send in your registration card as soon as possible so that you will be notified in case there's a recall.