Cute Southwest Baby Nursery Decorating Ideas 
Boho Charm, Cactus and Cow Skull Designs

The cute southwest baby nursery decorating ideas that we have includes elements of boho, desert cactus and cow skull designs.  There is even a tutorial for DIY cow skull wall decor for your project.  Our tips venture well beyond the usual southwestern baby nursery designs that place the focus on a western cowboy theme.  Yes, decorators have discovered the desert is filled with so much more than sand and this page will walk you through some of the possibilities.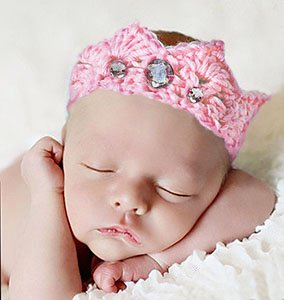 Go here
to get ideas for cute baby photo props!
Prepare to be amazed as the color combinations and decor selections are nothing short of magical. You will see that the color palette possibilities alone are nothing short of amazing. Imagine a space filled with with vivid colors reminiscent of a desert sunset at the end of a long hot day.
You will also learn that the stark scenery lends itself beautifully to a mystical Boho style where Indian dream catchers, teepees and dream catchers, teepees and arrows come together.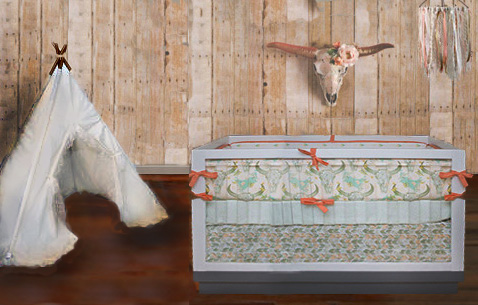 See this and more southwestern crib sets in Modified Tots Etsy Store.
This is the same southwest crib bedding set featuring cow skull pattern fabric in a coral pink and teal color scheme.
Teal and coral aztec patterns are so pretty in a girl's room.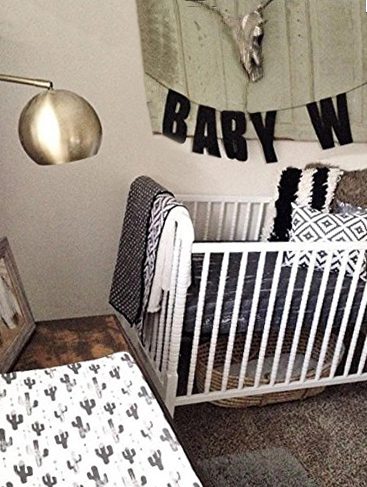 Go here to see more
gender neutral southwest cactus accessories and ideas.
A (faux) cow skull decorated with a silk floral arrangement may be an unusual choice in wall decor for a baby's room but it is the perfect choice for this
baby nursery theme
. The flowers soften the stark look of the bleached skull and adds the boho look that is trending in
baby girl nurseries
.
DIY Tutorial - How to Paint and Prepare a Cow Skull to Use as Southwest Nursery Wall Decor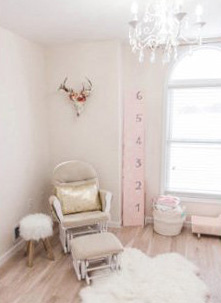 The instructions that tell you how to paint and prepare a cow skull for the nursery wall follow.
This is an easy DIY tutorial since old cow bones are actually easy to paint and prepare and when you are done it will last probably longer than well..longer than you will need it.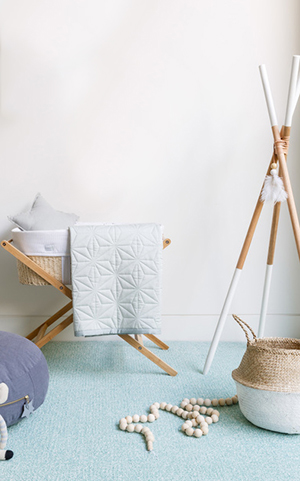 Baby blue is lovely with natural wood finishes and woven baskets.
Where Can I Find a Cow Skull
This is a perfectly valid question since everyone interested in southwestern baby nursery design ideas does not live on a cattle ranch or know a real cowboy. The rest of us have to either beg one from a butcher shop or buy one online. When shopping for the ideal specimen; the bigger the better for painting and a few cracks and imperfections are acceptable. When buying one online, check to be sure the piece has already been bleached, treated and all hair and remnants of hide have been removed.
How to Paint a Cow Skull
Sketch any designs or details that you want using a pencil.
Paint the background and the design that you sketched using acrylic paints using a paintbrush that is specifically for use with acrylics in a well-ventilated area or outdoors.
When you are satisfied with the look and color of the piece, place it in a dry, well-ventilated area and allow it to dry for 24 to 48 hours or until the paint is not tacky. Be careful how you test to see if the paint is dry to avoid risk to the design.
Finishing Touches
Spray the cow skull with a coat of clear varnish to seal and protect the paint as well as the skull.
The latest trends for a Southwest baby nursery design is to then crown it with a wreath of flowers to give it a feminine look.
Southwest Baby Nursery Decorating Ideas
Other southwest baby nursery decorating ideas that will complete the look of a southwestern baby nursery design would be:
An indian teepee. Make one from an old lace tablecloth for a girl.
Vintage desert art prints
Faux cactus decorations
Dream catchers
Boho baby crib mobiles
Please visit
Unique Baby Gear Ideas
when your dreamy desert themed decorating project is completed to upload photos and share your southwest baby nursery decorating ideas and crafts. We would love to give our visitors a tour and feature your nursery reveal on our blog!