Cloud Mural Painting Ideas and Instructions for the Baby's Nursery Wall and Ceiling

A cloud mural on the wall or ceiling of the baby's nursery is an excellent way to give the space an airy atmosphere no matter how small the room may be.  The painted blue sky filled with fluffy white clouds is capable of visually expanding the square footage of any room.
So many parents view this as the best decorative wall painting technique for this reason as well as its versatility.
The fact that it is an easy beginner painting project that requires only two paint colors also makes it very appealing.
On this page you will learn how to paint clouds on the ceiling or on the wall of your baby's nursery. I believe that you will find painting clouds both easy and FUN!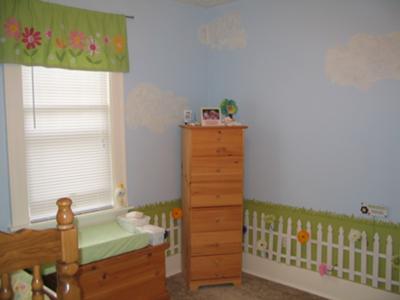 Paint Clouds on the Walls of a Garden Nursery
How to Paint a Cloud Mural on the Wall or Ceiling
First the nursery ceiling is painted a light blue. This will be the background and foundation of your wall cloud painting. You will next mix four parts faux glaze to one part white paint (latex paints will work just as well as oil paint and will dry quicker)to create your desired color.
As you can see, a few scattered here and there on the light blue wall gave this baby girl's room a light and airy atmosphere.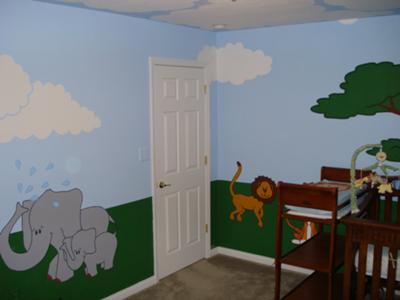 Jungle Safari Baby Nursery Wall Painting with Clouds and Animals
A sweet mother and baby giraffe are the stars of this painting.
Jungle Safari Nursery Wall Painting with a Mama and Baby Giraffe
DIY'ers with advanced painting skills might paint clouds on the ceiling.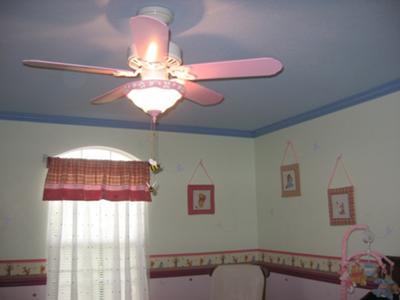 Winnie the Pooh Baby Nursery Cloud Ceiling Painting
The scheme can be as elaborate or as simple as you like and there is the option of including other images and shapes in the overall design depending on the size of the room.
Paint Clouds on the Ceiling; Any Nursery Theme
The can be painted to coordinate with your nursery colors; use your imagination!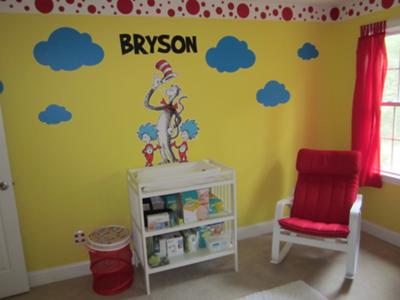 Clouds on the Walls of a Baby Seuss Nursery
Some parents prefer to paint the nursery ceiling blue and use a 3D technique to add texture to their sky.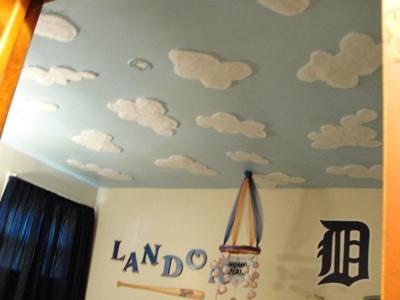 Clouds on the Ceiling of a Baby Boy Sports Theme Nursery
Painting clouds on ceilings and in wall murals is a cheap and easy way to personalize a child's room and it's a project where you can apply your "do it yourself" work ethic. Most amateurs could manage a wall mural that consists of cloud shapes without attending art classes. But for those of you who think DIY is a dirty word, there are cloud decals and wallpaper that will get the job done without ever opening a bucket of paint.
Go here to see more
more easy to use cloud wall decals.
Painting Instructions
Dip your damp sea sponge into the white glaze. Blot the excess paint from your sponge onto a clean cloth. Try painting a practice example by sponging cloud shapes on a board until you get the feel and look you want before moving forward to painting the actual mural on your nursery wall or ceiling. Make loose fluffy clouds with your sponge by using light pressing motions. Go outside and look at the sky for inspiration for ideas in completing your decorative wall painting. Look no further than nature for perfect color schemes and ideas for your cloud mural.
For instance:
Paint a bluebird in the blue skies of your mural.
or
Now that you know how to paint a cloud ceiling, it's time to get creative. You might consider painting clouds in animal shapes. You can paint clouds on the ceiling and walls that look like ducks, teddy bears, kitty cats, bunny rabbits, or puppy dogs. Paint a fairy castle in the clouds for your little prince or princess!
or
Arch a colorful rainbow woven throughout the cloud painting on your ceiling or walls. A pot of gold at the end of the rainbow in your cloud mural would be a lovely touch. If you wish, a leprechaun watching over his treasure can be painted at the end of the rainbow or place some fairies and other storybook characters in the design.
or
Are you fond of airbrush painting? Try your hand with airbrushing your clouds for an unusually soft cloud mural fantasy painting. Paint a beautiful sunset as a background with colors as rich as a juicy ripe peach.
or
If you just have no time to paint wall clouds without tempting rain clouds to storm on your busy schedule, simply buy some of the pre-pasted cloud wallpapers or cloud stickies that are on the market to use instead of painting a cloud mural on your ceiling and walls.
Give your nursery cloud mural a three dimensional effect by sewing some pillows in cloud shapes. Sew several in various shapes and sizes. Attach them to the nursery walls by using velcro strips. Using this quick and easy technique will make it possible for you to remove your homemade clouds from the wall so that baby might play with them from time to time! You can even whip up a few extra pillows on the sewing machine for use in the nursery rocking chair. Some pillows in the rocker will give welcome added support during those midnight soothing sessions.
Visit
Unique Baby Gear Ideas
often to see the latest pictures of wall mural painting projects shared by our visitors.