Baby Girl's Winnie the Pooh English Garden Nursery
by Corrie
(Frisco, TX, USA)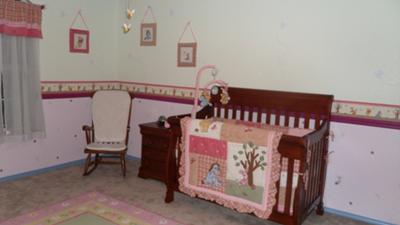 Winnie the Pooh English Garden Nursery for Our Baby Girl
The Winnie the Pooh English Garden Nursery that we designed for our baby girl took us about a month to complete since we had to paint the walls first and then decorate.


My husband was amazing throughout the project and took care of all the large areas that needed to be painted and all of the building projects.




I took care of painting all of the details like painting the butterflies, flowers, and twigs on the baby's walls.
Go Here to See More
From there, we made sure that one of the nursery walls had our favorite quote from Christopher Robin to Winnie the Pooh that said
"You are braver than you believe, stronger than you seem and smarter than you think."
With this inspirational quote on display in her room, when she gets old enough, it will be the first thing our daughter sees when she wakes up every morning and she will know that she can do anything!
Our DIY nursery project took us awhile to complete but after the painting and decorating is all done, we are very pleased with how everything looks and hope that all of you here at
Unique Baby Gear Ideas
like our classic Winnie the Pooh baby nursery ideas enough to try some of the DIY, painting and craft ideas in your own project.