Closeout Crib Bedding
How to Find Discontinued Cheap Nursery Bedding and Decor

Before making a decision on baby bedding, check to see if closeout crib bedding collections might be an option.  Discontinued baby bedding can be unbelievably cheap in comparison to current collection and these sets offer grand opportunities to score some cheap nursery decor as well.

Planning for any project is important but in this instance; it is crucial. A little super sleuthing may also be in order as knowing the exact day the baby boutique applies the discounts increases the chances of getting to the best sets before other moms clear the racks of discontinued baby bedding before you have a chance.
With proper timing and a willingness to risk the possibility that the collection you have your heart set on might be gone may pay off in a big way.
Since these sales offer high end, boutique bedding sets that have been discontinued at prices much less than full retail; the lines outside the stores may be long and competition to be fierce.
Go here to see more
discontinued baby bedding sets for baby boys and girls.
Are the Items Defective?
The closeout crib bedding sets are not "seconds" or defective merchandise with flaws in the sewing or fabric. These collections were manufactured to please moms with champagne taste and an eye for quality fabrics but there may be some evidence of having been on display. When these sets hit the clearance table, budget minded ladies such as yourself have an opportunity to decorate baby's room in style for extremely affordable prices.
that could be used for many
nursery themes
in a
baby girl's nursery
has been discontinued and supplies are limited but it is not listed for sale as "damaged".
Visit the store before the sale to examine the fabric of the collections that catch your eye while making a list of the accessories that are offered with the baby crib set. Make lists including the brand name, items included and to avoid disappointment; have a first, second and third choice.
Do not despair if you miss out the first time around since there is likely to be another sale before you deliver.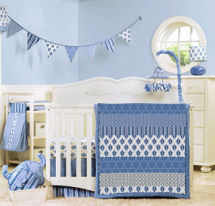 Cute sets of discontinued baby bedding in blue for a baby boy can be a challenge to locate.
Flexibility and creativity will play an important role in making available collections work with your vision for your son's room.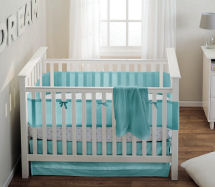 Teal, turquoise and aqua blue collections tend to sell well and therefore are rarely seen for sale at a discount but we occasionally find some for less than $50.
Cheap Nursery Bedding in Popular Themes
Cheap jungle nursery bedding that has been discontinued is always showing up on the shelves but it is rare that we see themed collections like this.
The cutest airplane, butterfly and Dr Seuss closeout crib bedding collections are usually gone before they are marked down even once!
Planning and Timing Sales
Shop ahead and keep an eye on inventory before the baby bedding sales are announced. Casually ask the shop personnel pointed questions about when the next promotion is planned. It's a good idea to know whether you are shopping for a
baby girl nursery
or
baby boy nursery
to pinpoint your goals.
If you plan things out in advance and are willing to be flexible you can pick up designer baby bedding at very low prices and make your friends green with envy!
Occasionally, by the time the liquidation of baby bedding and crib sets sales some of the accessories that were offered for sale with the discontinued styles are gone. Don't worry, you can pick them up later at the closeout crib bedding outlet store or through an online auction.
Finding affordable baby bedding sets at liquidation sales is not the easy way to decorate your baby's crib with fabulous nursery bedding worthy of a prince or princess, but it's cheap. If you plan ahead it's lots of fun to know that you got a bargain on one of the most expensive items for the baby's room at a mere fraction of what others have paid.
Return to
Unique Baby Gear Ideas
to check for the latest sales offering cheap nursery bedding sets online.